adidas F50 adiZero FG Soccer Cleats - Black


Add to Cart for Price

MSRP:

$229.99

adidas Messi 10.1 FG Soccer Cleats - Power Teal

adidas F50 adiZero FG Soccer Cleats - Solar Red and White

adidas F50 adiZero FG Soccer Cleats - Black and Silver

adidas Messi F50 adiZero FG Soccer Cleats - Battle Pack

adidas F30 FG Soccer Cleats - Solar Red and White

adidas F30 FG Soccer Cleats - Black and Silver Metallic

adidas Youth F50 Adizero FG Soccer Cleats - Red and White

adidas Youth F50 adiZero FG Soccer Cleats - Black and Silver

adidas Womens F30 TRX FG Soccer Cleats Running White with Pink

adidas Womens F30 TRX FG Metallic Silver with Bright Pink and Black

adidas Womens F30 TRX FG Soccer Cleats White and Core Energy

adidas F10 FG Soccer Cleats - Red and White

adidas F10 FG Soccer Cleats - Black and Silver

adidas Youth F10 FG Soocer Cleats - Red and White

adidas Womens F10 TRX FG Soccer Cleats Running White with Pink

adidas Womens F10 TRX FG Soccer Cleats White and Core Energy

adidas Youth F5 FxG Soccer Cleats - Red and White

adidas Youth F5 FxG Soccer Cleats - Black and Silver

adidas Youth F10 TRX FG Soccer Cleats Infrared with Black

adidas Womens F10 TRX FG Soccer Cleats Silver with Pink and Black

adidas Womens F5 TRX FG Soccer Cleats Silver with Pink and Black

adidas Youth F5 TRX FG Soccer Cleats Urban Sky with Electricity

adidas Youth F5 TRX FG Soccer Cleats Infrared with Black

adidas F50 Soccer Cleats
The adidas f50 line has evolved as one of adidas' most popular soccer shoes. The latest addition to the F50 line is the new
F50 adiZero
, a revolutionary cleat that will change the game. The lightest boot to date, the adiZero weighs only 165 grams. Now you can have your very own pair of these game changing soccer shoes! Pick up your
adidas F50 Soccer Shoes
from SoccerPro today and join the world of adidas chaos filling the soccer world!
---
---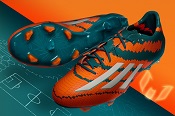 Messi 10.1 Points Back to Legend's Hometown
The new addition to the adidas line for Leo Messi is a tribute to the Argentine superstarís hometown. Messi has become a legend in his playing career, with Barcelona and Argentina. When he was 11, he was diagnosed with a growth hormone deficiency that could have derailed his future as a professional soccer player. However, FC Barcelona offered to pay for the treatment to help him grow. His career has undeniably been shaped by FC Barcelona which has given him a somewhat unorthodox relationship with his hometown. Messiís style of play really embodies the way he loves the game. His game is unique and so adidas have made the aesthetic of the Messi 10.1 unique as well. The upper features Power Teal and Solar Orange. The design gives off the impression of tightly lined streets and back alleys. Adidas have done a great job paying homage to the humble beginnings where the legendary Lionel Messi came from.
See more F50 news on our soccer blog
The Instep - adidas F50 adiZero
section.