Nike Barcelona Medium Fill Jacket - Loyal Blue

Nike Barcelona 3rd Match Jersey 2014-15

Nike Messi Barcelona Home Jersey 2014-15

Nike Neymar Barcelona Home Jersey 2014-15

Nike Suarez Barcelona Home Jersey 2014-15

Nike Messi Barcelona Away Jersey 2014-15

Nike Neymar Barcelona Away Jersey 2014-15

Nike Barcelona Long Sleeve Home Jersey 2014-2015

Nike Barcelona Long Sleeve Away Jersey 2014-2015


Add to Cart for Price

MSRP:

$109.99

Nike Barcelona Winger Authentic Jacket

Nike Barcelona Authentic N98 Jacket

Nike Barcelona Womens 2014-15 Away Jersey

Nike Barcelona Sideline Jacket - Loyal Blue

Nike Barcelona Home Jersey 2014-2015


Add to Cart for Price

MSRP:

$89.99

Nike Barcelona Away Jersey 2014-2015


Add to Cart for Price

MSRP:

$89.99

Nike Barcelona 3rd Jersey 2014-15

Nike Barcelona Thermal Training Top - Loyal Blue

Nike Youth Barcelona Home Jersey 2014-2015


Add to Cart for Price

MSRP:

$74.99

Nike Kids Barcelona Away Jersey 2014-2015


Add to Cart for Price

MSRP:

$74.99

Nike Barcelona Lil Boys Home Kit 2014-2015


Add to Cart for Price

MSRP:

$74.99

Nike Barcelona Lil Boys Away Kit 2014-2015


Add to Cart for Price

MSRP:

$74.99

Nike Barcelona Long Sleeve Midlayer Pre-match Top - Volt

Nike Barcelona Core Hoodie - Dark Grey

Nike Barcelona Infant Home Kit 2014-2015

FC Barcelona Jerseys, Shirts & Apparel
Celebrate the excellence of FC Barcelona with the awesome
Barcelona soccer jerseys
, 5 straight UEFA Champions League semi-final appearances is no joke! Find the Nike Barcelona jacket, Barcelona soccer hoodie and other great Barcelona gift ideas, including the
Messi Jersey
for all of you Leo Messi fans! And do not forget about the newest Barcelona Football Club stars to land at SoccerPro. You can get
Andres Iniesta Jerseys
and Gerard Pique Apparel too! The brand of Barcelona futbol is mesmerizing and top-quality, just like the
FC Barcelona T-Shirts
and other Barcelona soccer team apparel that SoccerPro offers. SoccerPro is your premier FC Barcelona store, your home away from the Nou Camp!
---
---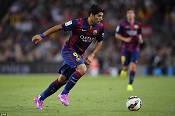 Luis Suarez: 3rd fiddle?
Luis Suarez is just five months removed from joining arguably the biggest club in the world and completing what he called a "dream move" to the Catalan giants. Messi is always going to run the show at Camp Nou while he is there, so Suarez is not used to playing 2nd fiddle. Well, here is where it gets complicated. Neymar is hailed as the successor to Messi and is destined to carry on the great tradition at Barcelona. Messi plays in the middle of the pitch while Neymar has no issue playing on the left. That means that Luis Suarez not only has to play 3rd fiddle to Messi and Neymar, but he also has to play out of his comfort zone.
Suarez is accustomed to being the star on Liverpool and being able to roam around the field freely as the lone true star on the team. Now, he is not only one of the stars up front, but on a whole team of stars. Suarez needs to keep his act together at Barca and prove that he is truly there for the team and not for personal glory. Only time will tell if Suarez can adjust but one thing is certain, Suarez is no longer the top dog... [
read more!
]