Reusch RE:LOAD Supreme G2 Ortho-Tec Goalkeeper Gloves - Black & Green

Reusch RE:CEPTOR Deluxe G2 Ortho-Tec Goalkeeper Gloves - Black and Green

Reusch RE:CEPTOR PRO G2 Ortho-Tec Goalkeeper Gloves - Black and Green

Reusch RE:CEPTOR Pro A2 Ortho-Tec Goalkeeper Gloves - Navy and Aqua

adidas ACE Zones Ultimate Goalkeeper Gloves - Yellow and Black

Nike Confidence Goalkeeper Gloves - White and Total Orange


Add to Cart for Price

MSRP:

$149.99

Reusch RE:LOAD Supreme G2 Goalkeeper Gloves - Black & Green

adidas Predator Zones Ultimate Goalkeeper Glove - Night Flash

Uhlsport Ergonomic Absolutgrip Bionik XChange White with Purple

Reusch Waorani Deluxe G2 OrthoTec Goalkeeper Gloves Irish Green and Yellow

Reusch RE:CEPTOR Deluxe G2 Goalkeeper Gloves - Black and Green

adidas Predator Zones Fingersave Allround Goalkeeper Gloves - Night Flash

Uhlsport Cerberus Absolutgrip Handbett Black with Cyan

Reusch Pro G2 OrthoTec Goalkeeper Glove Pink with Ocean Blue

Reusch Argos Deluxe M1 Goalkeeper Gloves Bluebird with Lime

Reusch Youth RE:CEPTOR Pro M1 Ortho-Tec Goalkeeper Gloves - Black and Green

Puma evoPOWER 1 Super Gloves - White and Red

Nike Premier SGT Goalkeeper Gloves - White and Total Orange


Add to Cart for Price

MSRP:

$119.99

Nike Vapor Grip 3 Goalkeeper Gloves - White and Orange


Add to Cart for Price

MSRP:

$119.99

Reusch RE:CEPTOR Pro G2 Goalkeeper Gloves - Ocean Blue

adidas Iker Casillas ACE Zones Pro Goalkeeper Gloves - White and Black

adidas ACE Zones Pro Goalkeeper Gloves - Solar Red and Orange

Reusch Waorani Deluxe G2 Goalkeeper Gloves Pink and Ocean Blue

Reusch Waorani Deluxe G2 LTD Goalkeeper Gloves Safety Yellow with Blue

Soccer Goalkeeper Gloves
SoccerPro has great soccer goalie gloves from adidas, Nike, Reusch, Uhlsport and other top
soccer goal keeper glove
brands. Do you also need a
goalkeeper jersey
? Browse our soccer goalkeeper gloves below...Want extra protection for your fingers? Take a peak at our
Fingersave Goalie Gloves
. Goalies are a special breed, many times they're the heart and soul of teams so SoccerPro makes sure they get the best stuff here! We also offer
Discount Goalkeeper Gloves
all costing under $50!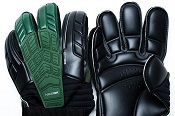 College Goalkeeper Coach Reviews Nike Gloves
The Nike Goalkeeper Confidence Glove is built for the goalkeeper that loves a flush, form-fitting glove. Besides a change in color scheme, the Confidence glove is very similar to previous versions. It holds integrity in shape, design, functionality, and security. A notable design improvement is the material used around the top of the wrist. The material is smoother and able to handle sweat, so as to not aggravate the skin and provide maximum mobility and comfort... [
read on!
]