Clicking
View All
displays all results and may take longer for page to load.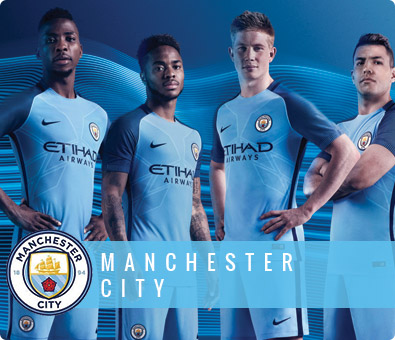 Manchester City Jerseys
Manchester City is excited about their recent club successes and have high hopes of continuing their excellence in the transfer market and on the pitch. City are laying claim to the city of Manchester and the siege has just begun, the red half of the city is very much aware of the new threat so close to home. And now you can cheer on City in your very own
Man City Jersey
from SoccerPro! They might not have the history and trophies of some of Europe's other big sides but the
Sky Blues
are on the bullet fast TGV train to that level of success and with stars like Balotelli and Tevez,don't bet against them! Get your
Sergio Aguero Jerseys
and the shirts of the other MCFC stars at SoccerPro today!
---
---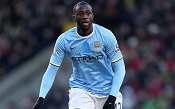 On the Spot: Yaya Toure
There is one man that has been indispensable for Manchester City over the last four seasons. That player's name is Yaya Toure. He has been the engine behind City's first league title since 1968, their first FA Cup win since 1969, and their current status as Premier League juggernaut. His sturdy frame and fantastic athleticism allow him to do things on the field that most players don't even dream about. Yaya is a must-watch every Premier League weekend and midweek Champions League fixture.
His journey to becoming a Man City star has taken many stops along the way. Beginning in his home country of Ivory Coast, Toure has played for five other European teams (most notably Barcelona) before he signed with the Citizens. As far as individual awards, he's been named the African Footballer of the Year four consecutive times now. Toure is such a mainstay in the conversation of the best players on the planet, so we had to put him On the Spot on our blog, The Center Circle. We take a "tour" through his early career and recent accomplishments, his playing style and his life outside the game. Toure and Man City fans, check it out. [
read all about Man City!
]