| | | |
| --- | --- | --- |
| SORT BY: | RESULTS PER PAGE: | |
Nike Hypervenom Phantom FG Soccer Cleats - White and Red


Add to Cart for Price

MSRP:

$234.99

Nike Hypervenom Phantom FG Soccer Cleats - Hyper Crimson

Nike Hypervenom Phantom FG Soccer Cleats - Crimson and Hyper Punch

Nike Hypervenom Phantom FG Soccer Cleats - Black with Hyper Punch

Nike Hypervenom Phantom FG Soccer Cleats Neo Lime with Poison Green

Nike Hypervenom Phantom FG Soccer Cleats - Vibrant Yellow with Volt and Black

Nike Hypervenom Phantom FG Soccer Cleats White Reflective Pack

Nike Womens Hypervenom Phatal FG Soccer Cleats - White

Nike Hypervenom Phatal FG Soccer Cleats - Crimson

Nike Hypervenom Phatal FG Soccer Cleats - Metallic Gold

Nike Womens Hypervenom Phatal FG Soccer Cleats Bright Magenta

Nike Hypervenom Phatal FG Soccer Cleats Black with White and Neo Lime

Nike Hypervenom Phatal FG Soccer Cleats Neo Lime with Poison Green

Nike Hypervenom Phatal FG Soccer Cleats - Vibrant Yellow with Volt and Black

Nike Hypervenom Phelon FG Soccer Cleats - Hyper Crimson

Nike Hypervenom Phelon IC Indoor Shoes - Hyper Crimson

Nike Hypervenom Phelon IC Indoor Shoes - Black and Hyper Punch

Nike Hypervenom Phelon Turf Soccer Shoes - Hyper Crimson

Nike Hypervenom Phelon FG Soccer Cleats Black with White and Neo Lime

Nike Hypervenom Phelon FG Soccer Cleats - Vibrant Yellow with Volt and Black

Nike Kids Hypervenom Phelon FG Soccer Cleats - Hyper Crimson

Nike Kids Hypervenom Phelon IC Indoor Shoes - Hyper Crimson

Nike Youth Hypervenom Phelon FG Soccer Cleats - Bright Crimson

Nike Youth Hypervenom Phelon FG Soccer Cleats - Vibrant Yellow with Silver

| | | |
| --- | --- | --- |
| SORT BY: | RESULTS PER PAGE: | |
The Nike Hypervenom Soccer Cleats
The ridiculously awesome

Nike Hypervenom Phantom

is here for you! Deceptive hypervenom ability, deadly hypervenom phinish! Combining the latest technological innovations from Nike including the Nikeskin upper, the x1.1 last, and the responsive glass nylon chassis outsole, this shoe is built to maximize the talent of an attacking player. It is engineered to fill those prime attacking needs...finding the ball, finishing the play! The Youth Nike Hypervenom Phelon Soccer Shoes is as good as the "grown-up" version and brings out the little Neymar in a young star! Be sure to grab a pair of these lightweight amazing kicks now!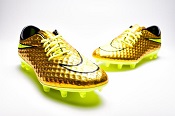 Neymar's Gold Nike Hypervenom
Neymar put together some incredible performances during the World Cup this summer but he definitely turned many heads when Nike unveiled a shiny gold Hypervenom, designed specifically for Neymar Jr. As the legend of the golden Hypervenom goes, a young 12-year-old Neymar da Silva Santos Jr. used to spray paint his boots gold because he could not afford shiny boots like he wanted to wear. The boot is made exactly the same as the standard Hypervenom so the technical aspects stay true. On the sock liner of the left boot you will find "Sonho Dourado" which is Portuguese for "Golden Dream". On the right boot's sock liner there is a picture of a spray paint can and a picture of a HyperVenom boot to represent the habits of Neymar spray-painting his boots. The Sonho Dourado boots are some of the flashiest boots to release in a long time and a must buy for a player who likes to stand out on the pitch...
Read more on our soccer blog
The Instep - Nike Hypervenom
section.