| | | |
| --- | --- | --- |
| SORT BY: | RESULTS PER PAGE: | |
Nike Tiempo Legend VI FG - Black

Nike Tiempo Legend VI FG Soccer Cleats - Wolf Grey & Clear Jade

Nike Tiempo Legend VI SG-Pro - Black & White

(1)

Nike Tiempo Legend VI AG-R - Black & White

Add to Cart for Price

MSRP:

$214.99

Nike Tiempo Legend VI FG - Black & White

(1)

Add to Cart for Price

MSRP:

$209.99

Nike Tiempo Legend VI FG - Clear Jade & Volt

Nike Tiempo Legend VI FG - White & Total Orange

(2)

Nike Tiempo Legend VI FG Soccer Cleats - Pure Platinum & Metallic Silver

(2)

Nike Tiempo Legend V FG Soccer Cleats - Green Strike and Black

Nike Tiempo Legend V FG Soccer Cleats - Black and Green

Nike Women's Tiempo Legend V FG Soccer Cleats - Blue Lagoon

Nike Tiempo Legend V FG - Tech Craft - Canvas & Volt

(1)

Nike Tiempo Legacy II FG Soccer Cleats - White & Total Orange

Nike Tiempo Legacy II FG Soccer Cleats - Black & White

Add to Cart for Price

MSRP:

$119.99

Nike Tiempo Legacy II FG Soccer Cleats - Pure Platinum & Metallic Silver

Nike Tiempo Legacy II FG Soccer Cleats - Light Crimson & Metallic Silver

Nike Tiempo Legacy Indoor Soccer Shoes - Anthracite & Volt

Nike Tiempo Mystic V IC Soccer Shoes - Black & White

Add to Cart for Price

MSRP:

$84.99

Nike Tiempo Mystic V FG Soccer Cleats - Pure Platinum & Metallic Silver

Nike Kids Tiempo Legend VI FG Soccer Cleats - Black & White

Add to Cart for Price

MSRP:

$49.99

Nike Kids Tiempo Legend VI IC - Black & White

Add to Cart for Price

MSRP:

$49.99

Nike Kids Tiempo Legend VI FG Soccer Cleats - Wolf Grey & Clear Jade

Add to Cart for Price

MSRP:

$49.99

Nike Tiempo Mystic V Indoor Soccer Shoes - Pure Platinum

Nike Tiempo Mystic V Turf Shoes - Black & White

Add to Cart for Price

MSRP:

$84.99

Nike Kids Tiempo Legend VI FG Soccer Cleats - Pure Platinum & Black

Nike Kids Tiempo Legend VI IC Soccer Shoes- Pure Platinum & Black

Nike Kids Tiempo Legend VI FG - White & Total Orange
| | | |
| --- | --- | --- |
| SORT BY: | RESULTS PER PAGE: | |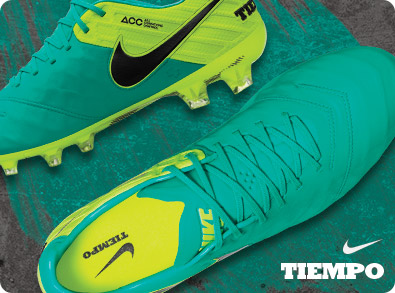 Nike Tiempo Legend VI
The Nike Tiempo Legend FG shoe is one of the 'baddest' soccer boots around with its awesome leather upper and all-round awesome old-school feel. With great comfort and durability, why wouldn't they be. In a new style and an extremely lightweight outsole, these
Nike Tiempo Legend
soccer boots are revolutionary! And now they are available at SoccerPro (your hookup for everything awesome)!
Nike Tiempo Legend VI Review
The Tiempo screams class whenever any generation of the boot comes up in conversation. The Legend VI is no different. Nike decided it was time to finally create a newer version of the Legend after a nearly 3 year run from the Legend V. The Legend VI brings some new innovations to the table that not only provides more stability to the boot, but also introduces a softer K-Leather to enhance the already marvelous touch. The internal support cage is made of soft and flexible foam that allows you to move freely while keeping the upper in place so that it will not over stretch like most leather boots. The soleplate remains the exact same from the Legend V. If it isn't broke, don't fix it for Nike in that department.
The Legend VI has had many skeptical upon its release but our reviewer had some high praise for the Legend VI. The Legend silo seems to always bring a new and modern twist to the leather boot market upon each new release.. Nike changed the game up again with the Legend VI in terms of combining traditional leather with modern innovation.
Read more on our soccer blog
The Instep - Nike Tiempo
section.