Clicking
View All
displays all results and may take longer for page to load.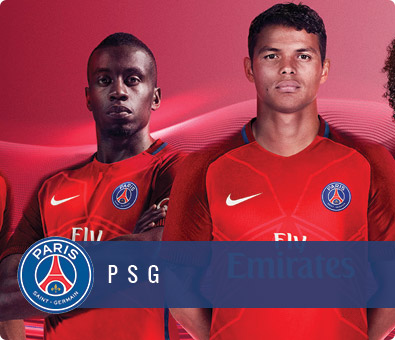 PSG Soccer Jerseys
PSG is a relatively young club...it was only founded in 1970 but this club has quickly become the favorite of Parisiens! PSG is one of only two French clubs to have won a major European title when they won the Cup Winners Cup in 96. This side has had the likes of Okocha, Ronaldinho, Djorkaeff and the great George Weah as past players! Enjoy your

Paris Saint Germain/PSG Jerseys

from SoccerPro.com, Paris brought right to your fingertips, grab a Zlatan Jersey or a David Luiz Jersey!
PSG: Ligue 1's Ruthless Tyrant
Paris Saint-Germain, are absolutely dominating the league in France. This season, PSG kicked the season off with a wide lead over the rest of Ligue 1. No team can seemingly break through the backline of David Luiz and Thiago Silva. The only real competition left for PSG will come in the Champions League when they play other clubs that can actually compete with them. With the Champions League being the real challenge now, it seems that PSG will breeze through the rest of the season domestically. Let's see how many times PSG can keep cleans sheets and how many games they will drop around those big Champions League matches. PSG have a stranglehold on the rest of the league in France, and that doesn't seem to be loosening up anytime soon.
[read the rest!]