Puma evoPOWER 1.2 FG Leather Soccer Cleats - White and Total Eclipse


Add to Cart for Price

MSRP:

$219.99

Puma evoPOWER 1.2 FG Soccer Cleats - White and Total Eclipse


Add to Cart for Price

MSRP:

$199.99

Puma evoPOWER 1.2 FG Soccer Cleats - Lava Blast and White


Add to Cart for Price

MSRP:

$199.99

Puma evoACCURACY 1 MB FG Soccer Cleats - Yellow

Puma evoPOWER 1.2 Leather FG Soccer Cleats - Pearlized

Puma evoPOWER 1.2 Graphic FG Soccer Cleats - Dragon

Puma evoSPEED 1.3 Graphic FG Soccer Cleats - Dragon

Puma evoPOWER 1.2 FG Soccer Cleats - Peacoat and White

Puma evoPOWER 1.2 FG Soccer Cleats - White and Black

Puma evoSPEED 1.3 FG Soccer Cleats - Bright Plasma and White

Puma evoPOWER 1 FG Soccer Cleats - Fluro Yellow

Puma evoSPEED 1.2 Leather FG Soccer Cleats Sharks Blue with Peach

Puma evoACCURACY 2 FG Soccer Cleats - Yellow

Puma evoSPEED 1.2 FG Soccer Cleats Blackberry

Puma evoSPEED 1.2 FG Soccer Cleats Sharks Blue with Fluro Peach

Puma King II FG Soccer Cleats - Majolica Blue

Puma evoSPEED 1 Graphic FG Soccer Cleats Blazing Yellow with Blue

Puma Kids evoPOWER 1.2 FG Soccer Cleats - Peacoat and White

Puma Youth evoACCURACY 1 MB FG Soccer Cleats - Yellow

Puma evoPOWER 4.2 FG Soccer Cleats - White and Black


Add to Cart for Price

MSRP:

$59.99

Puma evoSPEED 1 K FG Soccer Cleats Jasmine Green with White

Puma Kids MB 9 FG Soccer Cleats - White and Gold


Add to Cart for Price

MSRP:

$49.99

Puma Kids Falcao 9 FG Soccer Cleats - Blue and Yellow

Puma Kids Cesc 4 AG Soccer Cleats - Blue and White

Puma Soccer Cleats from SoccerPro
Find the style of Puma cleat that fits you best at SoccerPro. Puma has been supplying top professionals (this includes everyone and anyone willing to kick a soccer ball) with the best soccer cleats for years, and now you get a chance to play like the pros with the premium Puma shoes offered at SoccerPro.com.
Puma soccer cleats
are no joke, that's why the likes of Sergio Aguero and Cesc Fabregas wear them!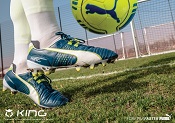 Puma Closes Out 2014 on Top
If it weren't for Nike releasing the Magista Obra and Mercurial Superfly, Puma would be dominating the boot releases for 2014. In most brands, they usually focus on one or two big releases and others fall to the side and are considered weak links. Puma have had such nice releases that is hard to find anything bad. The evoSpeed 1.3 has always flown under the radar of the Vapor IX and F50 Adizero, but this year the evoSpeed really held its own in the speed boot market. The new update of the Puma King offers a superior leather feel and is taking away some of the market for the 11Pro. The stud pattern on the King is one of the most durable on the market today. Finally, The new evoPower may be the best boot of the year. The new AdapLite upper stretches length-wise but not width-wise so your foot really is locked into the boot. After an incredible year, it will be worth watching what Puma rolls out in 2015, but it will be hard to top what they released in 2014!
read the rest!