US Soccer Jerseys and Shorts for 2014
This is a soccer nation! Every member of Sam's Army needs to be outfitted in all the right United States soccer gear. We have the latest in USA Shorts, US Soccer Jerseys, and more, including the new USA Home Jersey. So now you can cheer your fave team all through the season. As Jurgen Klinsmann goes about transforming this team into a potential world beater, fine tune your lungs and get ready to shout yourself hoarse in support of Team USA, that's the only way to go, full-on support. Support the USA this summer with gear from SoccerPro!
---
---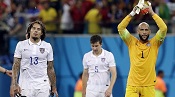 Reviewing the USMNT in 2014
What a year it was for the US menís national team. 2014 saw a lot of ups and downs but also some strange disputes between powerful people in United States soccer. Jurgen Klinnsman left Landon Donovan at home for the World Cup and it started quite a bit of controversy. Donovan, who is undoubtedly a legend in US soccer, was hoping to go out with one last World Cup. Jurgen had different plans and took a relatively young US squad to Brazil. The likes of Julian Green, Mix Diskerud, and DeAndre Yedlin, all had coming out parties, putting in impressive performances.
The World Cup did not go as well as we would have liked but it was a great learning experience for the next one. The round of sixteen is good but how long will it be enough for the USMNT? Since the World Cup the focus has really shifted to even more young guys to get some minutes for the US. Building for the future is key for the United States but so is keeping our veterans involved. It will be something to keep and eye on beginning in 2015... [
read more about the USMNT!
]