| | | |
| --- | --- | --- |
| SORT BY: | RESULTS PER PAGE: | |
adidas Predator 18+ FG - White & Real Coral

Add to Cart for Price

MSRP:

$299.99

adidas Predator 18+ FG - Trace Olive & Burnt Orange

adidas Predator 18+ FG - Black & Solar Red

adidas Predator 18.1 FG - White & Real Coral

adidas Predator 18.1 FG - Black & Solar Red

adidas Predator Tango 18+ IN - White & Real Coral

Add to Cart for Price

MSRP:

$179.99

adidas Predator Tango 18+ TF - White & Real Coral

Add to Cart for Price

MSRP:

$179.99

adidas Kids Predator 18+ FG - White & Real Coral

adidas Predator Tango 18+ IN - Black & Solar Red

adidas Predator Tango 18+ TF - Black & Solar Red

adidas Predator 18.2 FG - Black & Solar Red

adidas Predator 18.2 FG - White & Real Coral

adidas Kids Predator 18+ FG - Black & Solar Red

adidas Predator Tango 18.1 TR - White & Real Coral

Add to Cart for Price

MSRP:

$129.99

adidas Predator Tango 18.1 TR - Black & Solar Red

adidas Predator Tango 18.3 TR - Black & Solar Red

adidas Predator Tango 18.3 TR - White & Real Coral

adidas Predator 18.3 FG - Black & Solar Red

adidas Predator Tango 18.3 IN - Black & Solar Red

adidas Predator Tango 18.3 TF - Black & Solar Red

adidas Predator 18.3 FG - White & Real Coral

adidas Predator Tango 18.3 IN - White & Real Coral

adidas Predator Tango 18.3 TF - White & Real Coral

adidas Kids Predator Tango 18.3 IN - Black & Solar Red

adidas Kids Predator Tango 18.3 TF - Black & Solar Red

adidas Kids Predator 18.3 FG - White & Real Coral

adidas Kids Predator Tango 18.3 IN - White & Real Coral

adidas Kids Predator Tango 18.3 TF - White & Real Coral

adidas Kids Predator 18.3 FG - Black & Solar Red
| | | |
| --- | --- | --- |
| SORT BY: | RESULTS PER PAGE: | |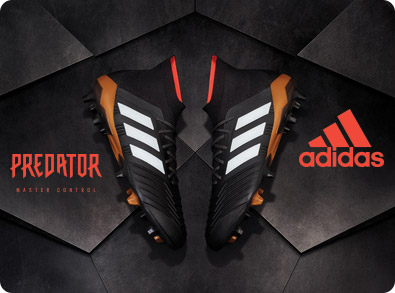 adidas Predator Soccer Cleats
It's back! The adidas Predator is a cult fave on the field among soccer players and soccer fans and the Predator 18 is a roaring hit and staking it's claim for best Pred ever. Get your own pair of adidas Predator shoes today! SoccerPro carries a wide range of adidas Predator Soccer Shoes in various styles and sizes with classics like the Predator Tango and more. Want to find a jersey to work with your shoes? We recommend the awesome
Argentina Jersey
! Take a look at our selection today.
---
---
Take a closer Look
adidas
Predator
Learn a lot more about the adidas Predator
The Predator Instinct Impresses Right Out of the Box
The latest addition to the adidas Predator family, the Instinct has very quickly become one of the most popular boots on the market. The Instinct takes some aspects of the older predators and takes the lethal zones idea from the LZ and the LZ II. The zones have been raised and make the old lethal zones seem very small. The lethal zones have reintroduced the pass zone, which is on the instep of the boot and features a gel pad, and it is a great addition to the lethal zones. The drive zone is much better for striking the ball compared to the LZ and LZ II. The comfort of the Instinct is something to be aware of. When breaking the Instinct in, trying moving your toes around as much as possible so that the Hybrid Touch starts to stretch more and starts to help mold to your foot. The boot runs true to size and will not be as forgiving on wide feet as past Predators. The boot is extremely popular at the moment and will continue to gain popularity as Adidas release new color ways. Something else to note about the Predator Instinct is that it is slightly heavier than the LZ and LZ II.
See more opinions on our soccer blog
The Instep - adidas Predator
section.