Clicking
View All
displays all results and may take longer for page to load.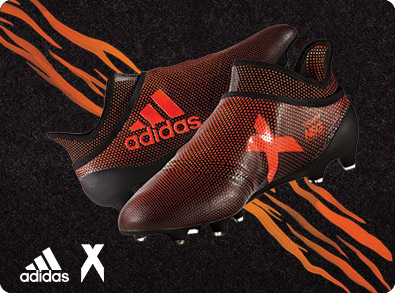 adidas X Soccer Cleats
The next evolution of adidas soccer shoes is here! The adidas X silo has some of the best soccer shoes you'll see in a long while! The top of the line shoe combines the FG/AG outsole excellently. You'll be creating mayhem on the pitch always as unpredictability and instinct carry you above all opponents. This shoe ensures you drive pure chaos through the opponent, get it now!
Take a closer Look
adidas
X Soccer Shoes
Learn a lot more about the adidas X
adidas X 16 Purechaos Review - Mercury Pack
The adidas X 16+ Purechaos is not for the faint of heart. It's for those who wish to take over the game with vigorous authority. Adidas have dubbed it the Purechaos for good reason, because if you're the type of player that revels in chaos when the game's on the line, then you may have found the cleats for you.
Adidas debuted the X 15.1 last year to great fanfare and rave reviews. Somehow they have improved upon it by leaps and bounds. The Purecut sock allows for ultimate fit and comfort, while the new outsole stud arrangement makes for excellent acceleration. The Purechaos truly has the whole package.
See more adidas X 16 news on our soccer blog The Instep - adidas X Footwear section.