Puma evoPOWER 2 Match Ball - White & Atomic Blue

Nike Catalyst Match Soccer Ball - White & Bright Crimson

Add to Cart for Price

MSRP:

$79.99

Nike Catalyst Match Ball - White & Total Orange

Brine Phantom Soccer Ball

adidas MLS 2016 Competition Match Ball (NFHS) - White & Shock Blue

adidas Euro 16 Competition Soccer Ball - White & Bright Blue

Nike Strike Premium Soccer Ball - Copa America - Bright Crimson & Silver

Puma evoSPEED 1.5 Hybrid Match Ball - White

Nike Strike Premium Soccer Ball - EPL - White & Royal Blue

Add to Cart for Price

MSRP:

$44.99

Nike SCCRX Duro Reflect Soccer Ball - Reflective Silver & Pink Blast

adidas MLS 2016 Top Training Soccer Ball (NFHS) - White & Black

adidas Finale 16 Top Training Soccer Ball - White & Vapour Steel

Puma Powerclub 2.0 Soccer Ball - Blue & Orange

Nike Premium Strike Soccer Ball - Metallic Black & Total Crimson

Add to Cart for Price

MSRP:

$39.99

Nike USA Prestige Soccer Ball - University Red & Game Royal

Add to Cart for Price

MSRP:

$34.99

Nike Brazil Prestige Soccer Ball - Volt & Yellow

Nike France Prestige Soccer Ball - Midnight Navy

Nike Strike Soccer Ball - La Liga - White & Orange

Add to Cart for Price

MSRP:

$34.99

Nike Barcelona Prestige Soccer Ball - Game Royal & Prime Red

Add to Cart for Price

MSRP:

$34.99

Nike PSG Prestige Soccer Ball - Challenge Red & Midnight Navy

Add to Cart for Price

MSRP:

$34.99

Nike Barcelona Prestige Soccer Ball - Green Glow & Energy

Add to Cart for Price

MSRP:

$34.99

Nike PSG Prestige Soccer Ball - White & Multi Color

Add to Cart for Price

MSRP:

$34.99

Nike Manchester City Prestige Soccer Ball - Total Orange & Persian Violet

Add to Cart for Price

MSRP:

$34.99

Nike Reflective Soccer Ball - Chrome and Volt

Nike Saber Soccer Ball - Grey and Black

Nike Strike Soccer Ball - White & Bright Crimson

Add to Cart for Price

MSRP:

$29.99

Nike SCCRX Duro Strike Soccer Ball - Total Orange & Bright Citrus

Add to Cart for Price

MSRP:

$29.99

Nike Strike Soccer Ball - Hyper Grape & Black

Add to Cart for Price

MSRP:

$29.99

Nike PSG Prestige Soccer Ball - Navy & Red

Nike Pitch EPL Soccer Ball - Volt and Black

adidas Messi Soccer Ball - Silver Metallic & Shock Blue

adidas X Glider Soccer Ball - Black & Dark Grey

Nike Pitch Soccer Ball - La Liga - White & Orange

Add to Cart for Price

MSRP:

$24.99

Nike Pitch Soccer Ball - EPL - White & Royal Blue

Add to Cart for Price

MSRP:

$24.99

Nike Barcelona Supporters Soccer Ball - Midnight Navy

Add to Cart for Price

MSRP:

$24.99

Nike PSG Supporters Soccer Ball - Midnight Navy

Add to Cart for Price

MSRP:

$24.99

Nike Manchester City Supporters Soccer Ball - Black

Add to Cart for Price

MSRP:

$24.99

Nike Mercurial Veer Soccer Ball - White & Hyper Grape

Add to Cart for Price

MSRP:

$24.99

adidas Messi Soccer Ball - Black & Solar Green

Nike Brazil Prestige Soccer Ball
Find Match Soccer Balls, Training Soccer Balls, and Practice Soccer Balls
We carry a wide variety of
premium soccer balls
and match training balls from brands like Nike, adidas, Puma, Brine, Select, Diadora and more. Use these as soccer game balls or simply to practice like the pros. Are you a high school coach looking for the
NFHS Approved soccer ball
(aka. the official high school soccer balls)? SoccerPro has got you covered! Check out our different price categories and find a soccer ball that matches your pocket and need!
---
---
Great for all ages. Used for foot skill drills, handball or other games. This ball is generally half the size of a size 3 ball.
Ages 7 and under
Ages 8 to 12
Ages 13 and up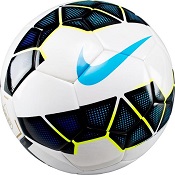 Nike EPL Saber Review
The Nike Saber is the first takedown model in the Nike soccer ball line with the Ordem II being the top tier ball. The Saber offers incredible durability for a ball and one that will be used for a long time to come. The panels of the ball are fused together to make sure your ball will not tear or give out on you. The Saber is mainly white and will get dirty but the performance will not be affected. The Saber does not feature the micro-texturing found on the upper on the top level Ordem II. The ball has a smooth surface that is great for training balls; pick-up games, free kicks, etc. The Saber has the EPL official logo in gold on it to add some flair to the ball and it looks really cool in person. The performance is incredible and has been put to the test to prove that the Saber will be in your ball bag for seasons to come. The Saber features a thermally bonded, tight seam construction, so that panels align more consistently and prevent the damaging effects of moisture saturation over time. Essentially, what you are getting with the Nike Saber is a long lasting, great performing soccer ball...
[read the full article!]