Clicking
View All
displays all results and may take longer for page to load.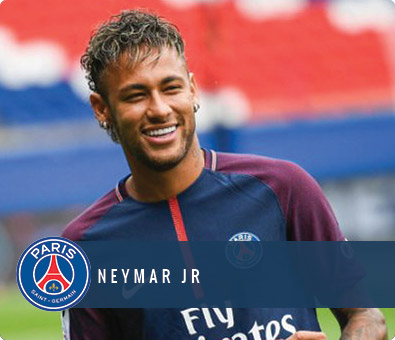 neymar coloring pages
Neymar Jerseys and Soccer Gear
Neymar da Silva Santos Júnior or otherwise known as simply Neymar is Brazil's major superstar. As much admired for his hair off the pitch as his game on it, Neymar is one of the beautiful game's finest stars. He is the holder of the world record transfer fee. Starting his professional career at the age of 17 for Santos, his popularity has sky-rocketed since then. He plays for PSG after making magic for Barcelona. His
Brazil Jersey
is super popular. Find your
Neymar Jerseys
here along with those fabulous
Neymar Cleats
at SoccerPro right now!
Nike Presents Neymar "Ousadia Alegria" Hypervenom
If you are a fan of Neymar, you know that the Brazilian star is no stranger to wearing some flashy signature cleats. The Barcelona star has now received some new boots that not only stand out on pitch, but also mean something to the player wearing them. The words "Ousadia" (daring) and "Alegria" (joy) are tattooed on Neymar's calves. Neymar has previously had cleats made for him based around a diamond tattoo on his arm for his sister. His sister has a matching tattoo showing that his family is very important to him.
The new Ousadia Alegria Hypervenom collection was created in collaboration with Brazilian artist Bruno Big. He is famous for floral designs and even created the tag found on the 2014 Brazilian home kit for the World Cup. The design is mainly black and white with some elements of red to add even more pop to the creative design. The design isn't just made for the Hypervenom Phantom II, as the Phinish, and even the HypervnomX Proximo Indoor and Turf models. No matter what surface you play on, you can play in style with the Ousadia Alegria...
read the rest!