Clicking
View All
displays all results and may take longer for page to load.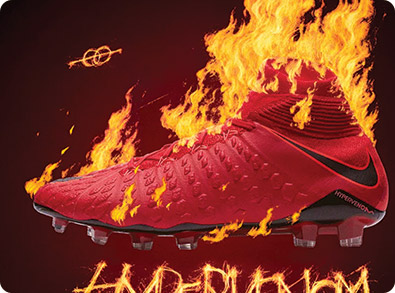 The Nike Hypervenom Phantom III is here for you! Combining the latest technological innovations from Nike including the Flyknit upper, dynamic collar, and the hyper-reactive outsole plate, this shoe is built to maximize the talent of an attacking player. It is engineered to fill those primal attacking needs...finding the ball, finishing the play! With the DF and Low versions of the Phantom, there's a shoe for everyone.
Here are some quick stats on the Nike Hypervenom Phantom:
Current Model:
Hypervenom Phantom
Current Season Product ID: 860643
MSRP:
299.99
USD
Condition: New
Availability: In Stock
Take a closer Look
NIKE
Hypervenom
Learn more about the Nike Hypervenom
Nike Gets Deadly with Hypervenom 3
Deadly attack is the Nike Hypervenom's motto. And that certainly doesn't change with the updated Hypervenom 3. Nike have created a truly lethal and innovative product, revamping the upper and soleplate on the Phantom III. Now you can get a Hypervenom Phantom with or without the Dynamic Fit Collar, although both come with Nike's patented lightweight Flyknit material. On the bottom, Nike have designed the HyperReactive soleplate that allows for a little more bend in the forefoot so you can react in a split second.
It's no wonder some of the world's greatest strikers opt for the Hypervenom. You can find Robert Lewandowski, Harry Kane, Jamie Vardy, and more in the this scorer's delight of a boot.
Read more on our soccer blog The Instep - Nike Hypervenom section.