Nike Magista Obra II FG Soccer Cleats - Rio Teal & Obsidian

Add to Cart for Price

MSRP:

$299.99

Nike Womens Magista Obra II FG Soccer Cleats - Pure Platinum & Racer Blue

Nike Magista Obra II FG Soccer Cleats - Volt & Black

(1)

Nike Magista Obra II FG - Black & Total Crimson

Nike Magista Obra II FG Soccer Cleats - Pure Platinum & Ghost Green

Nike Magista Opus II FG Soccer Cleats - Rio Teal & Obsidian

Add to Cart for Price

MSRP:

$229.99

Nike Magista Obra SG-Pro - Total Crimson & Black

(1)

Nike Magista Obra AG - Total Crimson & Black

Nike Air Footscape Magista Flyknit - Black & Dark Grey

Add to Cart for Price

MSRP:

$199.99

Nike Air Footscape Magista Flyknit - Midnight Turquoise & Black

Nike Magista Opus II FG Soccer Cleats - Volt & Total Orange

Nike Magista Opus II FG Soccer Cleats - Black

Nike Magista Opus II FG Soccer Cleats - Pure Platinum & Ghost Green

Nike Magista Orden II FG Soccer Cleats - Rio Teal & Obsidian

Add to Cart for Price

MSRP:

$169.99

Nike Magista Opus FG Soccer Cleats - White & Pink Blast

Nike Magista Opus FG - Crimson & Volt

Nike Womens Magista Orden II FG Soccer Cleats - White & Racer Blue

Nike MagistaX Proximo II IC Soccer Shoes - Black & Gum Light Brown

Nike MagistaX Proximo II IC Soccer Shoes - Volt & Hyper Turquoise

Nike Kids Magista Obra II FG Soccer Cleats - Volt & Black

(1)

Nike Kids Magista Obra II FG Soccer Cleats - Black & Total Crimson

Nike Kids Magista Obra II FG Soccer Cleats- Pure Platinum & Ghost Green

Nike Magista Orden II FG Soccer Cleats - Black

Nike MagistaX Proximo II TF Soccer Shoes - Black & Gum Light Brown

Nike MagistaX Proximo II TF Soccer Shoes - Volt & Hyper Turquoise

Nike Kids MagistaX Proximo II IC Soccer Shoes - Black & Gum Light Brown

Nike Kids MagistaX Proximo II TF Soccer Shoes - Black & Gum Light Brown

Nike MagistaX Proximo Street IC - Black & Racer Blue

(1)

Nike Magista Orden FG - Crimson & Volt

Nike Magista Orden FG Soccer Cleats - Metallic Pewter & Black

Nike Magista Onda II FG Soccer Cleats - Rio Teal & Obsidian

Nike MagistaX Finale Indoor Shoes - Metallic Pewter & Black

Nike MagistaX Finale IC Soccer Shoes - Black & Fierce Purple

Nike Magista Onda II FG Soccer Cleats - Black & Total Crimson

Nike Kids Magista Opus II FG Soccer Cleats - Black & Total Crimson

Nike MagistaX Finale Turf Soccer Shoes - Black & Volt

Nike Magista Onda FG Soccer Cleats - Metallic Pewter & Black

Nike Magista Onda IC Indoor Soccer Shoes - Dark Citron & Black

Nike Kids Magista Ola II IC Soccer Shoes - Volt & Barely

Nike Kids Magista Onda FG Soccer Cleats - Metallic Pewter & Ghost Green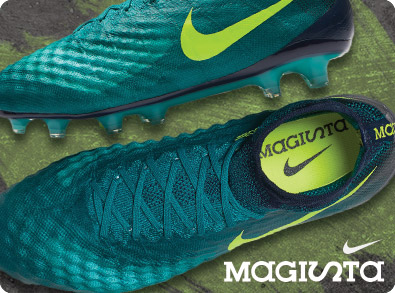 Nike Magista Obra and Opus Soccer Cleats
When Nike says the game will never be the same, you know they mean business! The Magista 2 silo is the truth. There's the Magista Obra then the Opus then the Orden, the Onda, and the Ola. These are your Majestic Magista shoes. The Obra is the king of the hill, with it's excellent Nike FlyKnit technology, it is the height of design and innovation in the soccer cleat world! All these shoes have creativity written all about them and the creative machine definitely needs to add the
Nike Magista 2 Soccer Shoes
to that killer shoe lineup!
Take a closer Look
NIKE
Magista
Learn a lot more about the Nike Magista
Nike Magista II Breakdown - We Tell You the Differences
After the runaway success of the original Nike Magista, it's back and better than ever with the updated Nike Magista 2. The first Magista Obra was revolutionary, but this one has somehow improved on the original. With a Flyknit 3D texture to its upper, you can get fantastic control on the ball. Plus, Nike have revamped both the Dynamic Fit collar and the soleplate. So much to love on the Magista Obra II.
But how do the rest of the cleats under the Nike Magista umbrella compare? What's the difference between the Obra and Magista Opus? All of the different names and technology can get confusing, so over on blog, The Instep, we put together a full rundown of the differences between the Nike Magista Obra, Opus, Orden, and Onda. Enjoy and happy shopping!
Read the rest at our
The Instep - Magista
section.