| | | |
| --- | --- | --- |
| SORT BY: | RESULTS PER PAGE: | |
Nike Womens Magista Obra II FG Soccer Cleats - Pure Platinum & Racer Blue

Nike Magista Obra II FG Soccer Cleats - Pure Platinum & Ghost Green

Nike Magista Obra II FG Soccer Cleats - Volt & Black

(1)

Nike Magista Obra II FG - Black & Total Crimson

Nike Magista Obra SG-Pro - Total Crimson & Black

(1)

Nike Magista Obra AG - Total Crimson & Black

Nike Air Footscape Magista Flyknit - Black & Dark Grey

Add to Cart for Price

MSRP:

$199.99

Nike Air Footscape Magista Flyknit - Midnight Turquoise & Black

Nike Magista Opus II FG Soccer Cleats - Volt & Total Orange

Nike Magista Opus II FG Soccer Cleats - Black

Nike Magista Opus II FG Soccer Cleats - Pure Platinum & Ghost Green

Nike Womens Magista Orden II FG Soccer Cleats - White & Racer Blue

Nike Magista Opus FG Soccer Cleats - White & Pink Blast

Nike Magista Opus FG - Crimson & Volt

Nike MagistaX Proximo II IC Soccer Shoes - Black & Gum Light Brown

Nike MagistaX Proximo II IC Soccer Shoes - Volt & Hyper Turquoise

Nike Magista Orden II FG Soccer Cleats - Black

Nike Kids Magista Obra II FG Soccer Cleats - Volt & Black

(1)

Nike Kids Magista Obra II FG Soccer Cleats - Black & Total Crimson

Nike Kids Magista Obra II FG Soccer Cleats- Pure Platinum & Ghost Green

Nike MagistaX Proximo II TF Soccer Shoes - Black & Gum Light Brown

Nike MagistaX Proximo II TF Soccer Shoes - Volt & Hyper Turquoise

Nike Kids MagistaX Proximo II IC Soccer Shoes - Black & Gum Light Brown

Nike Kids MagistaX Proximo II TF Soccer Shoes - Black & Gum Light Brown

Nike MagistaX Proximo Street IC - Black & Racer Blue

Nike Magista Orden FG - Crimson & Volt

Nike Magista Orden FG Soccer Cleats - Metallic Pewter & Black

Nike MagistaX Finale Indoor Shoes - Metallic Pewter & Black

Nike MagistaX Finale IC Soccer Shoes - Black & Fierce Purple

Nike Magista Onda II FG Soccer Cleats - Black & Total Crimson

Nike Kids Magista Opus II FG Soccer Cleats - Black & Total Crimson

Nike MagistaX Finale Turf Soccer Shoes - Black & Volt

Nike Magista Onda FG Soccer Cleats - Metallic Pewter & Black

Nike Magista Onda IC Indoor Soccer Shoes - Dark Citron & Black

Nike Kids Magista Onda FG Soccer Cleats - Metallic Pewter & Ghost Green

Nike Kids MagistaX Pro IC Soccer Shoes - Wolf Grey & Black

Nike Kids MagistaX Pro TF Soccer Shoes - Black & Green Glow

Nike Kids Magista Onda FG Soccer Cleats - Dark Citron & Black
| | | |
| --- | --- | --- |
| SORT BY: | RESULTS PER PAGE: | |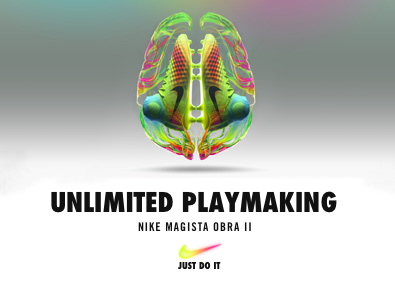 Nike Magista Obra and Opus Soccer Cleats
When Nike says the game will never be the same, you know they mean business! The Magista 2 silo is the truth. There's the Magista Obra then the Opus then the Orden, the Onda, and the Ola. These are your Majestic Magista shoes. The Obra is the king of the hill, with it's excellent Nike FlyKnit technology, it is the height of design and innovation in the soccer cleat world! All these shoes have creativity written all about them and the creative machine definitely needs to add the
Nike Magista 2 Soccer Shoes
to that killer shoe lineup!
Nike Magista Changes Soccer Forever
After gestating in their R&D lab for over four years, Nike has finally let down the curtain on their latest innovation. It's called the Nike Magista and it's here to change soccer forever. You may be wondering how a soccer cleat can permanently change the game. There are a number of different reasons why the Magista is so unique and revolutionary, but we'll focus on one for now.
You may notice that sock-looking material rising up from the ankle and it's hard not to, as this is the most immediately recognizable aspect of the Magista. This is called the Dynamic Fit Collar and it's designed to help your shoe work with your leg more effectively. As Phil McCartney, Nike's VP of Sport Performance Footwear, puts it: "This isn't a boot that just goes on your foot, it's a boot that works with your foot."


That is part of what will change the way we think about soccer cleats. The more your boots are designed to respond to your movements, the more efficient you will become on the field. Barcelona's Andres Iniesta and Bayern Munich's Mario Gotze know this full well. They both tested and provided feedback to Nike, assisting in the creation of a boot that is perfect for imaginative playmakers like them. Gotze claims it is "nothing like I have ever seen before". On May 22nd, when the Nike Magista goes on sale, we will get to see its supreme originality for ourselves.

See more opinions on our soccer blog The Instep - Magista section.