Nike Mercurial Superfly V FG Soccer Cleats - SE - Wolf Grey & White

Nike Mercurial Superfly V FG - University Red & Black

Nike Mercurial Superfly V FG - Obsidian & White

Nike Mercurial Superfly V FG - CR7 - Blue Tint & Black

(1)

Nike Mercurial Vapor XI FG - Neymar Jr - Racer Blue & Chrome

Add to Cart for Price

MSRP:

$254.99

Nike Mercurial Superfly V FG - Black & White

Nike Womens Mercurial Superfly V DF FG - Light Aqua & White

Nike Mercurial Vapor XI FG - University Red & Black

Nike Mercurial Vapor XI FG - Obsidian & White

Nike Mercurial Superfly V FG - Light Armory Blue & Armory Navy

Nike Neymar Mercurial Superfly V SX FG - Blue Orbit & White

Nike Womens Mercurial Superfly V FG Soccer Cleats - White & Racer Blue

Nike Mercurial Superfly V FG Soccer Cleats - Black & Electric Green

Nike Mercurial Superfly V FG Soccer Cleats - Electric Green & Ghost Green

Nike Mercurial Vapor XI FG - CR7 - Blue Tint & Black

Nike Kids Mercurial Superfly V FG - CR7 - Blue Tint & Black

(1)

Nike Mercurial Vapor XI FG - Black & White

Nike Mercurial Vapor XI SX FG - Neymar - Blue Orbit & White

Nike Kids Mercurial Superfly V FG - Obsidian & White

Nike Mercurial Veloce III DF FG - University Red & Black

Nike Kids MercurialX Proximo II IC - CR7 - Blue Tint & Black

Nike Mercurial Veloce III DF FG - CR7 - Blue Tint & Black

Nike Mercurial Veloce III DF FG - Light Armory Blue & Armory Navy

Nike Kids Mercurial Superfly V FG - Black & White

Nike MercurialX Proximo II IC - University Red & Black

Nike MercurialX Proximo II TF - University Red & Black

Nike MercurialX Proximo II IC - CR7 - Cool Grey & Metallic Hematite

(1)

Nike Kids Mercurial Superfly V FG - Neymar - Blue Orbit & White

Nike MercurialX Finale II TF - SE - Black & Gamma Blue

Nike Free Flyknit Mercurial - Game Royal & Photo Blue

(1)

Nike Mercurial Veloce III DF FG - Laser Orange & Black

Nike Mercurial Veloce III DF FG - Black & White

Nike Kids Mercurial Superfly V FG - University Red & Black

Nike Kids Mercurial Superfly V FG Soccer Cleats - Purple Dynasty & Hyper Grape

Nike MercurialX Finale II IC - University Red & Black

Nike MercurialX Finale II TF - University Red & Black

Nike Kids MercurialX Proximo II IC - University Red & Black

Nike Kids Mercurial Vapor XI FG - Neymar Jr - Racer Blue & Chrome

Add to Cart for Price

MSRP:

$99.99

Nike Mercurial Victory DF IC - CR7 - Blue Tint & Black

Nike MercurialX Victory VI DF TF - CR7 - Blue Tint & Black

Nike Mercurial Victory VI DF Indoor Shoes - Black & White

Nike Mercurial Victory VI DF FG - University Red & Black

Nike Mercurial Victory VI DF FG - Obsidian & White

Nike MercurialX Victory VI IC - University Red & Black

Nike MercurialX Victory VI IC - Obsidian & White

Nike MercurialX Finale TF Soccer Shoes - Black & Electric Green

Nike Kids Mercurial Victory VI DF FG - CR7 - Blue Tint & Black

Nike Kids MercurialX Victory VI DF IC - CR7 - Blue Tint & Black

Nike Kids MercurialX Victory VI DF TF - CR7 - Blue Tint & Black

Nike Kids Mercurial Victory VI DF FG Soccer Cleats - Racer Pink & Black

Nike Mercurial Victory VI DF FG - Black & White

Nike Mercurial Victory VI FG - Neymar - Blue Orbit & White

Nike Kids Mercurial Victory VI TF - CR7 - Cool Grey & Metallic Hematite

Nike Kids Mercurial Victory VI IC - CR7 - Blue Tint & Black

(1)

Nike Kids MercurialX Victory VI TF - CR7 - Blue Tint & Black

Nike Kids Mercurial Victory VI DF FG - Laser Orange & Black

Nike Kids Mercurial Victory VI DF FG - Black & White

Nike MercurialX Vortex III IC - CR7 - Blue Tint & Black

Nike MercurialX Vortex III TF - CR7 - Blue Tint & Black

Nike Kids MercurialX Victory VI IC - University Red & Black

Nike Kids MercurialX Victory VI TF - University Red & Black

Nike Kids MercurialX Victory VI IC - Obsidian & White

Nike Kids Mercurial Victory VI FG - Neymar - Blue Orbit & White

Nike Mercurial Victory V FG Soccer Cleats - Purple Dynasty & Hyper Grape

(1)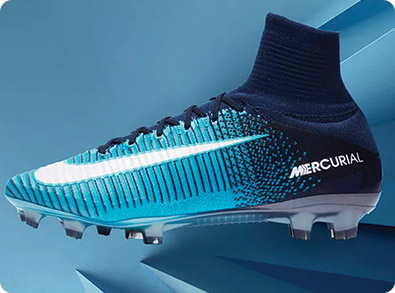 Take a closer Look
NIKE
Mercurial
Learn a lot more about the Nike Mercurial
Long live the Superfly! The Nike Mercurial Superfly V is far and away the highest level of production and quality of soccer cleats on the market today. The latest Superfly features Flyknit 'speed rib' technology throughout the upper to enhance high speed touch by providing friction between the upper and the ball. Like the

Nike Mercurial Vapor XI

, the Superfly is a behemoth in the speed shoe game albeit a collared version. It's ultralight Nike 3D speed plate fits the foot naturally for explosive speed.
Here are some quick stats on the Nike Superfly:
Current Season Product ID:
831940
MSRP:
299.99
USD
Condition: New
Availability: In Stock