Clicking
View All
displays all results and may take longer for page to load.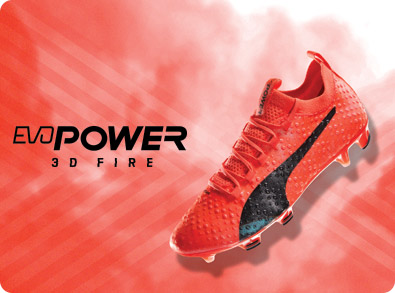 Puma evoPOWER Soccer Shoes
Nobody does power like Puma and the latest show stopper in power is now available at SoccerPro. This is the Puma evoPower Soccer Shoes. The shoe of stars like Olivier Giroud, Kun Aguero, and Francesc Fabregas is a delight to have! You can also get the Puma evoPower soccer ball to match! Get these revolutionary soccer cleats today at SoccerPro.com!
The EVOlution of the EVOPower
It is rare to find a cleat that continues to be a hit even after being updated twice. The Puma evoPower is that clea. The power boot from Puma burst onto the scene with the evoPower 1 back in 2014 and was an immediate hit among professionals and amateurs alike. We were introduced to the now famous Adaplite upper and AccuFoam technology that allows players to strike the ball with pace while keeping your foot comfortable in the cleat. The 1.2 was still a hit but was not as well taken as the 1. That does not mean it is a bad boot, it actually made the 1 seem even more impressive.
The 1.2 has been replaced this year by the 1.3. The 1.3 takes inspiration from the 1, 1.2, and the Mario Balotelli release, the evoAccuracy. The original's Accufoam thickness was brought back to the general release evoPower and that among other additions, have brought the evoPower back in discussion for boot of the year. The evoPower is here to stay and we may be talking about this one for many years to come.
See more opinions on our soccer blog
The Instep - Puma evoPower
section.