Clicking
View All
displays all results and may take longer for page to load.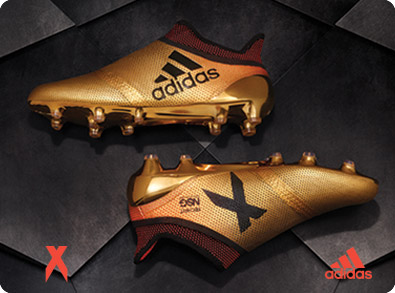 adidas X Soccer Cleats
The next evolution of adidas soccer shoes is here! The adidas X silo has some of the best soccer shoes you'll see in a long while! The top of the line shoe combines the FG/AG outsole excellently. You'll be creating mayhem on the pitch always as unpredictability and instinct carry you above all opponents. This shoe ensures you drive pure chaos through the opponent, get it now!
Take a closer Look
adidas
X Soccer Shoes
Learn a lot more about the adidas X
adidas X 17.1 Review - Pyro Storm Pack
Adidas changed the game with the introduction of the top tier boots such as the adidas NEMEZIZ 17+ and the adidas X PureSpeed.
The collar wraps your foot nicely as soon as you put it on. NSG or Non Stop Grip is found in shape of small raised dots on the upper that make it possible to have the best possibly grip in all weather conditions. I think that the NSG dots help, but are more of a marketing storyline
Read more about this shoe in our The Instep - adidas X Footwear section.