adidas Predator Accuracy
—
Popular with the pros and players of all ages and skill levels, adidas® Predator cleats are made to meet high-performance standards to help you elevate your game on the pitch. They're designed to be lightweight, comfortable, breathable, and durable, all while providing natural, responsive touch, a uniform striking area, and of course, exceptional grip. Whether conditions are dry, wet, or muddy, these boots will help you sprint, run, stop, and turn on a dime. Choose from a number of styles, including the all new Predator Accuracy firm ground, indoor, or turf designs.
adidas Predator Accuracy
Dominate on the pitch with the new adidas® Predator Accuracy for 2023. Just like animals in the wild, Predator cleats are constantly evolving. Like its predecessors, the new Predator Accuracy stands at the top of the pack with High Definition Grip technology that helps you put maximum spin on your shots and passes. For this new version, the textured grip is a system of individual rubber elements that run horizontally across the boot instead of the rubber nubs/spikes of other Predator designs. With a Primeknit upper to keep the adidas Predator Accuracy ultra-lightweight and extremely breathable, it's no wonder this design gets top marks for fit, comfort, ball control, and touch response.
adidas Predator Edge Soccer Cleats
The newest adidas Predator shoes also have a revolutionary Facet Frame outsole. This split outsole can move slightly with your foot and allows for improved comfort and better power transfer into every stride. But what makes the Facet Frame so impressive is the rebalanced design that puts more weight in the forefoot section. This helps you put a little extra juice on your shots and can also boost acceleration. With angular studs that provide exceptional traction in every direction, the Predator Accuracy and its one-of-a-kind Facet Frame is sure to be popular with players at every position.
Predator cleats are available in lace-up or laceless styles. Enjoy a uniform striking area with elastic-fit boots, or choose classic lace-up designs. Each Predator Accuracy also features a knit collar, which provides additional comfort and support without hindering agility. Cut past your opponent, show off your footwork, and streak down the sideline like a cheetah. With the adidas Predator Accuracy, you'll have boots that will take your game to another dimension.
Get the Latest adidas Predator Shoes 2022
SoccerPro carries a full line of adidas cleats, including the ever-popular classic adidas Copa silo. Another great choice for players at all positions is the  adidas X.
With so many outstanding adidas soccer cleats to choose from, it's not always easy to make a decision about which ones to purchase. Luckily, SoccerPro makes it easy to try out different designs. Order cleats from us and try them on in your living room. If they're not exactly what you're looking for, exchange them for a different pair. We make the exchange process simple and offer lightning-fast shipping. Start the search for your new pair of cleats today.
PRIVACY: Your email address and content of your message are private and will not be shared outside of SoccerPro. Information will be used to provide a response to your request. SoccerPro.com may send you additional marketing emails related to soccer gear. You have the opportunity to 'opt out' of marketing emails at that time.
High Definition Grip:

The new High Definition Grip technology takes inspiration from the Zone Skin of yesterday's Predator. The rubber elements are found throughout the entire upper of the shoe to provide the most aggressive control on the market. 

Advanced FACET FRAME:

Two-piece FACET FRAME soleplate with new angular studs provides support for quick turns and aggressive acceleration.

New POWER FACET:

Weighted metal gem that sits at the forefoot of the new soleplate to increase power in your shot.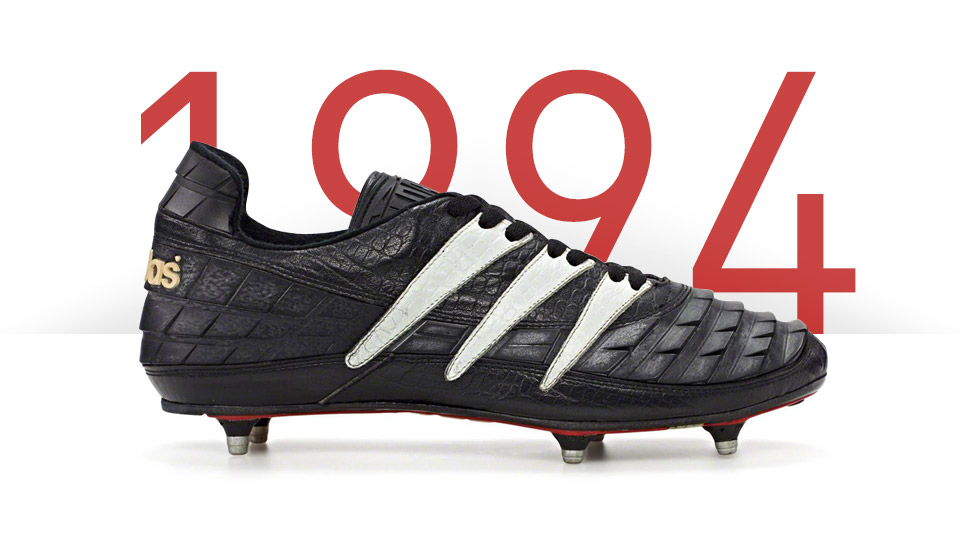 The Predator 1994
The original adidas Predator was made in 1994. This was a time when cleats were clunky and built for 'hard men' who loved to shoes that allowed them kick and run hard while not falling apart on the mud-heavy pitches of the day.
The Predator launched with the tag line 100% legal, 0% fair? as the Predator's iconic rubber teeth were unlike anything the game had seen.