Dortmund Jersey
—
Coach: Marco Rose
Captain: Marco Reus
Nickname: Die Borussen
Titles: Bundesliga(5), DFB Pokal(5), UCL(1), Cup Winners Cup(1)
Manufactured by PUMA®, a Borussia Dortmund jersey from SoccerPro.com is identical to
actual game-worn apparel. If you're into the Bundesliga (and we know you are), there's one
team that always seems to be a cut above the rest. Representing Germany's eighth largest city, this classic club has roots tracing back over 100 years. From league championships to international play, they always play hard and compete for trophies every year!
Bring Home an Authentic Dortmund Jersey
Who knows, with the right attitude and a little bit (a lot, actually) of practice, maybe someday you can make this legendary club? Ok, ok. Your chances of making the team are probably next to nil (, but that doesn't mean you can't enjoy the same performance activewear worn by the pros.
Whether you're traveling to Deutschland to catch a game in person, or cheering on your squad over a plate of hot wings in the local sports bar, these fantastic BVB jerseys will have you looking like you just stepped off the pitch.
Do you enjoy playing pickup games of soccer at the local park? A Borussia Dortmund shirt is the perfect top for the game. These brilliant jerseys are made from high-tech fabric that is durable, breathable, and has moisture wicking properties. The result is a garment that's tough enough for a match against your heated rivals from the other side of town, and helps you manage temperature and perspiration. Tailored for a modern, athletic fit, these attractive designs are non-bulky and non-restrictive. They won't hold you back as you lunge for that header or toss the ball to a waiting teammate.
Browse the BVB shop at SoccerPro.com and discover yellow home jerseys, black away jerseys, alternate 3rd jersey designs and other beautiful BVB apparel. Available in sizes for adults and kids, you'll find a perfect gift for any age in this collection. Shop for these and other soccer jerseys today and enjoy fast shipping on your next order. Support Die Schwarzgelben today!
Other Club Team Jerseys:
Werder Bremen Jersey | Barcelona Jersey | Bayern Munich Jersey
Top Players

MARCO REUS 11

ERLING HAALAND 9

GIO REYNA 7
PRIVACY: Your email address and content of your message are private and will not be shared outside of SoccerPro. Information will be used to provide a response to your request. SoccerPro.com may send you additional marketing emails related to soccer gear. You have the opportunity to 'opt out' of marketing emails at that time.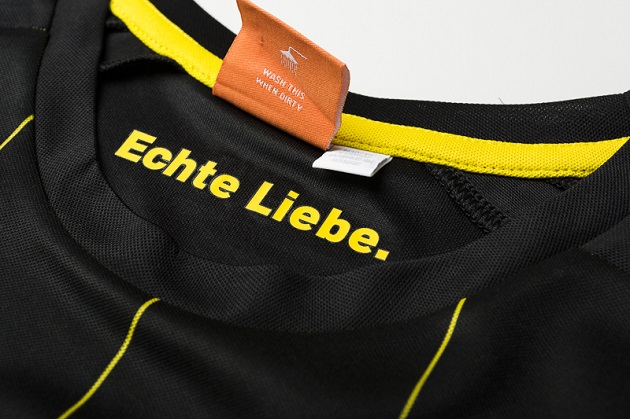 Borussia Dortmund Jersey Review
For all the club's success and their duo-colored nickname, however, the relationship between these two colors has been decidedly asymmetrical. In fact, the relationship between the colors has been overrun by a single color: Gelb, or yellow. Close your eyes and think Borussia Dortmund… [ Read more… ]