Germany Soccer Jersey
—
Support Die Nationalmannschaft with a Germany soccer jersey from SoccerPro.com. Made by adidas®, these authentic designs are truly high-performance activewear. They are durable, yet lightweight, slim fitting, yet non-restrictive, and engineered to help you manage sweat and temperature while you compete. Compete or cheer in the same jerseys as Germany's biggest
stars with these premium jerseys.
Germany Jersey 2022
At SoccerPro.com, you'll find the Germany national team jersey in both home and away designs. Choose the name and number of your favorite player, or select a blank jersey and show support for the whole team. The Germany jersey 2022 design is available in sizes for men, women and kids. Deck out the whole family in this attractive apparel before a trip to the stadium.
Jerseys by adidas are more than just attractive sporty-chic casual wear, they are also high-tech activewear that's designed for the rigors of wear on the pitch. The Germany away jersey and home field styles are constructed from breathable, moisture wicking fabric. This will help prevent overheating while you compete, and keep you feeling comfortable and dry, even as the sun blazes above. Brilliantly tailored for a non-restrictive fit, these striking jerseys won't hold you back as you lunge for that header, or reach for that bowl of chips.
Whether you're challenging the neighborhood crew to a pickup game, practicing with your school squad, or rooting for Deutschland from the local sports bar, these high-performance jerseys are up to the task. Highly durable, and machine washable for easy care, a Germany World Cup jersey from this collection is tough, low-maintenance apparel. They make amazing collector's items for any FIFA fanatic, and are also choice athletic wear for the field, track, or backyard. When your team is in town, show up in style. Shop SoccerPro.com today for lightning-fast shipping on your next order. With a national team soccer jersey from this selection, you'll look just like a member of team Germany. Be prepared to get asked for an autograph on your way to the game.
---
Players: Neuer | Muller | Reus  | Werner | Goretzka | Rudiger | ter Stegen
---
PRIVACY: Your email address and content of your message are private and will not be shared outside of SoccerPro. Information will be used to provide a response to your request. SoccerPro.com may send you additional marketing emails related to soccer gear. You have the opportunity to 'opt out' of marketing emails at that time.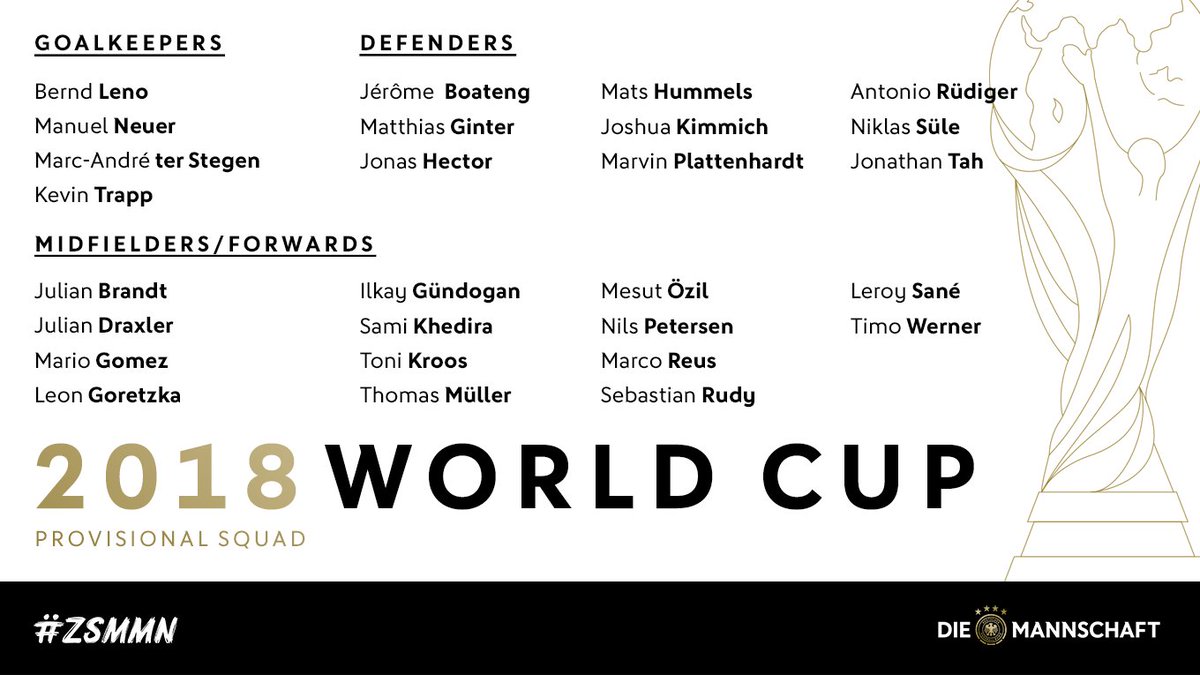 The Nations of the 21st World Cup – Germany
Many of the individual faces will have changed from the squad that romped through Brazil, but when Germany arrives in Russia to defend their title, they will again be among the heaviest favorites to take the podium in Moscow on July 15th as world champions…. [ Read more… ]