Portugal Jerseys
—
Support one of the most legendary European federations with ease in one of the latest Portugal jerseys! The European giants have given us stars like Eusebio, Futre, Rui Costa and Luis Figo over the years and they continue to give us more and more superstars. Ever heard of this guy Cristiano Ronaldo? We have his apparel too! Get the Cristiano Ronaldo jersey in your size so that you can cheer on your favorite player all season long! If you're a true fan of this tiny country that also happens to be a football powerhouse, you need to put your fandom on display with a Portugal soccer jersey from SoccerPro.com. Shop the 2022 Portugal jerseys in sizes for men, women and kids, and outfit the whole family for the game's biggest tournament.
Portugal Soccer Jerseys & Gear 2022
Whether you're proud of your ancestral homeland, or just a fan of the numerous superstars this small Iberian nation has produced, you'll enjoy wearing a Portugal World Cup jersey from SoccerPro.com. Manufactured by Nike®, the Portugal national team apparel is made to meet professional standards on the pitch. Train with your school team, challenge your crosstown rivals to a pickup game, or pass the ball around on the beach with family. Clothing and gear from this line is attractive, eye-catching, and made to last.
Crafted from breathable, lightweight fabric, these fantastic jerseys won't trap excess body heat and cause overheating. Moisture wicking materials will carry sweat from your skin, and help you feel dry, even under the blazing summer sun. Machine washable for easy cleaning, these tough, low maintenance jerseys are ideal activewear, and stylish casual wear. Looking for a little extra coverage on your arms? Check out the Portugal long sleeve jersey. It's great for those brisk spring mornings, or chilly autumn afternoons.
Getting ready for the game's biggest tournament? Kick around a Portugal soccer ball. At SoccerPro.com, you'll find an assortment of fun gear that's perfect for tailgate parties, cookouts, family time, or hosting a watch party to cheer on Portugal and your favorite players. Despite its relatively small population, Portugal has made a big name for itself in international play with multiple trophy wins. Be a good fan and support your team, with Portugal football clothing and equipment from this selection. Order premium national team soccer jerseys with SoccerPro.com today and enjoy fast shipping and friendly customer service.
---
Players: Bernardo Silva | Ronaldo | Nani | Coentrao | Pepe | Moutinho | Renato Sanches | Joao Felix | Dalot
---
PRIVACY: Your email address and content of your message are private and will not be shared outside of SoccerPro. Information will be used to provide a response to your request. SoccerPro.com may send you additional marketing emails related to soccer gear. You have the opportunity to 'opt out' of marketing emails at that time.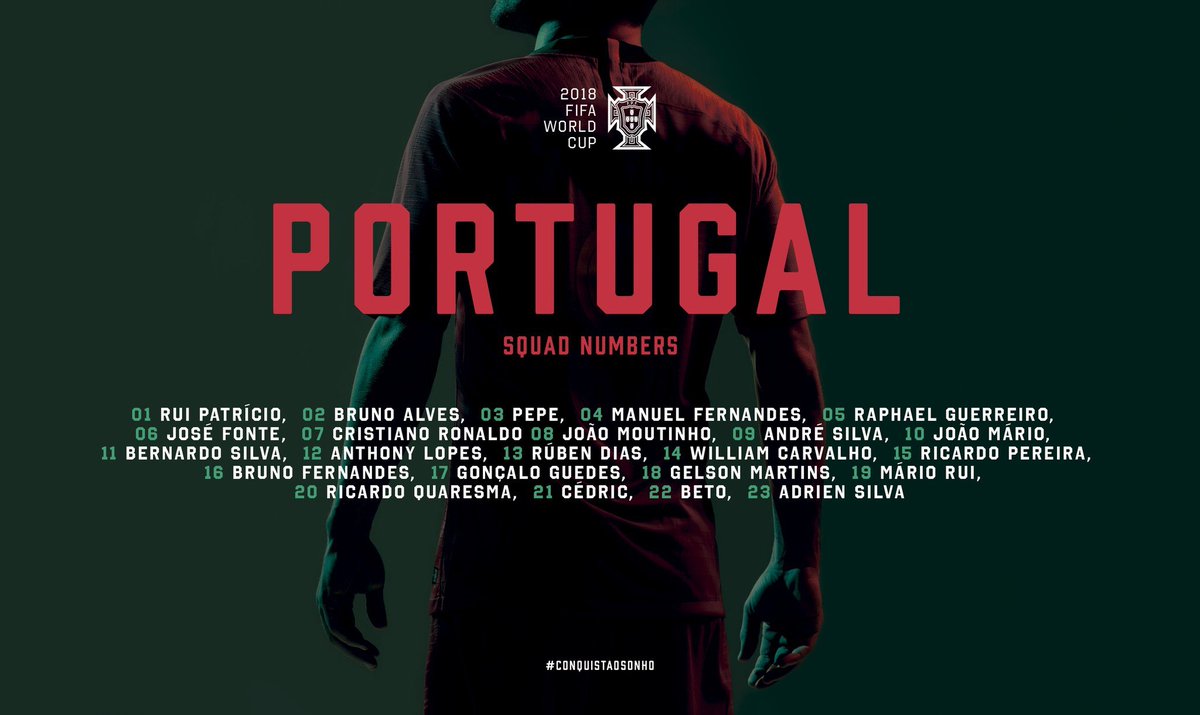 The Nations of the 21st World Cup – Portugal
In 2004, Portugal lost the final of the European Championship, at home, to a cynical defend-and-counter Greece side. A young, shirtless Cristiano Ronaldo bawled his eyes out and was consoled by Figo. Twelve years later, though, Ronaldo was all smiles as Portugal's cynical, strikerless 4-6-0 ambled to European glory in the least memorable of fashions…. [ Read more… ]