Nike Flyknit Ultra Soccer Shoes
—
The Nike Phantom Ultra Venom is one of the biggest boot launches for Nike since 2017. Meshing the technology of the 2017 Flyknit Ultra and the well-loved Hypervenom, these boots are more speedy and powerful than ever! Shop for your own pair before they're gone today!
No products were found matching your selection.
Nike Phantom Ultra Venom
From the production of the 2017 Flyknit Ultra to now, Nike has made incredible advancements in both the upper and soleplates that they use. However, the focus has remained the same; speed and power without compromise. The latest special addition Flyknit launch builds on the 2017 model, but combines two of the most infamous and well-loved silos.
The Phantom Ultra Venom boots features the soleplate and upper build of the illustrious Hypervenom III that has morphed into the updated Phantom GT. The soleplate is anatomical and conforms to the natural contours of the wearer's foot to provide a more flexible and stable fit. The Phantom Ultra Venom also features a fly knit upper that also has the textured casing of the Hypervenom.
If you're looking to gain an edge over the competition then look no further than our collection of Nike soccer cleats at SoccerPro.com.
PRIVACY: Your email address and content of your message are private and will not be shared outside of SoccerPro. Information will be used to provide a response to your request. SoccerPro.com may send you additional marketing emails related to soccer gear. You have the opportunity to 'opt out' of marketing emails at that time.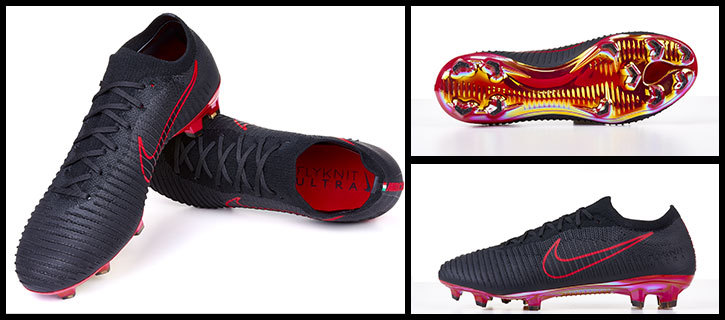 Nike Mercurial Vapor Flyknit Ultra FG
In 1996, Nike invested heavily in boot quality & established a boot factory in Montebelluna, Italy. 'Why Montebelluna?' you ask?Well, it happens to be an ancient cobbling capital, one that remains key for the development and testing of all Nike's major boot projects.The 1997 Air GX, the first Mercurial in 1998, the Tiempo IV Elite, Nike GS, and Tech Craft boots are just a few of the incredible cleats to come from Montebelluna.
Now the Nike Mercurial Vapor Flyknit Ultra can be added to that growing list of masterpieces.