Puma Future
—
Browse this large selection of PUMA Future soccer cleats from SoccerPro.com today, and
discover the ideal pair for you. These superb and stylish cleats are perfect for showing off your individual attitude and style on the pitch.
Get these shoes and the Puma ONE shoes and all other Puma shoes from SoccerPro!
No products were found matching your selection.
Time Travel in Puma Future Cleats
When you step onto the pitch in next-gen soccer cleats, the other team will be shocked. How
can they possibly compete with a time-traveling all-star like you? They'll instantly know they are outmatched. As if you needed more of an advantage than that, PUMA® Future designs are lightweight, comfortable, and provide excellent grip on classic natural grass fields. Lace them up however you like; you have literally millions of options with the patented NetFit™ upper. Distract and dominate your opponents with these high-tech cleats today.
Are you flashy? Aggressive? Or do you prefer classic black designs that let your play do the talking? Whatever your tastes, you'll have no problem finding amazing soccer boots in this line.
PUMA Future NetFit cleats feature a unique lacing system. With almost limitless options to
choose from, you can lace up your cleats in various ways to make sure you have the lockdown
support you're after. Paired with an evoKNIT™ sock and form-fitted textile base, the end result is a shoe that feels snug and comfortable, and gives you a natural and efficient response. Don't lose focus because of achy or fatigued feet. With PUMA Future soccer cleats, you'll feel energized and ready to deliver the knockout blow as the game drifts deeper into stoppage time.
Of course, the most important things cleats do is improve your traction on slippery surfaces. Shop a variety of PUMA Future cleats including the 18.2 firm ground (FG) cleats and be prepared for an epic match on a standard natural grass pitch. With combination bladed and conical studs, these incredible cleats provide great grip in dry, wet, or muddy conditions. An ultra-lightweight, breathable upper give you fantastic ball-feel as you dribble, pass and shoot, and also helps your feet stay cool.
Take your game to the next level with Future cleats from PUMA. Shop SoccerPro.com for
the finest PUMA soccer gear here today and enjoy lightning fast shipping on your next order.
Related Searches: Puma One | Puma evoPOWER
PRIVACY: Your email address and content of your message are private and will not be shared outside of SoccerPro. Information will be used to provide a response to your request. SoccerPro.com may send you additional marketing emails related to soccer gear. You have the opportunity to 'opt out' of marketing emails at that time.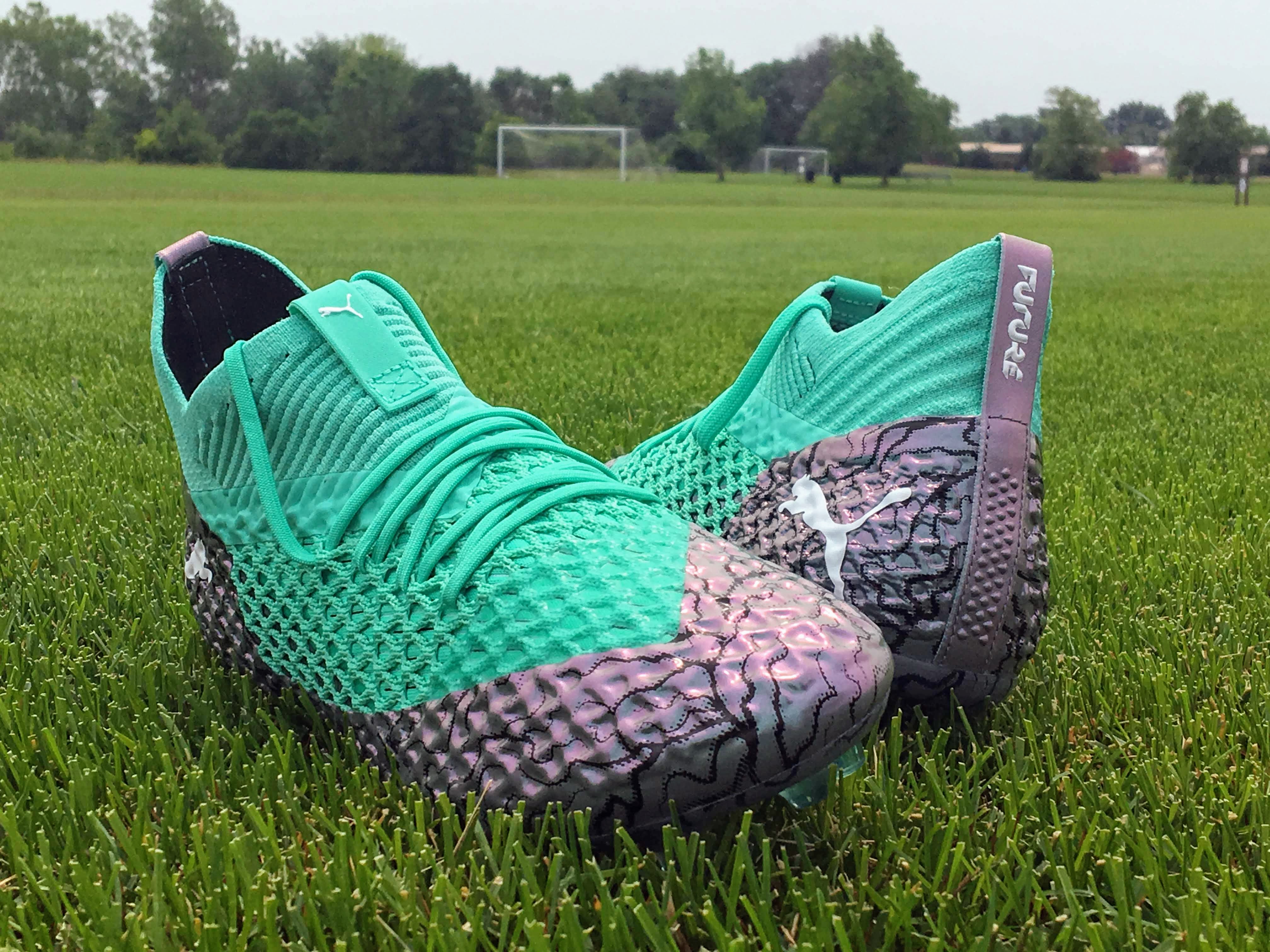 INFINITE CUSTOMIZATION:
NETFIT technology provides infinite lacing options for any foot, lock-down or style need. Lace up however up want. Do what feels comfortable!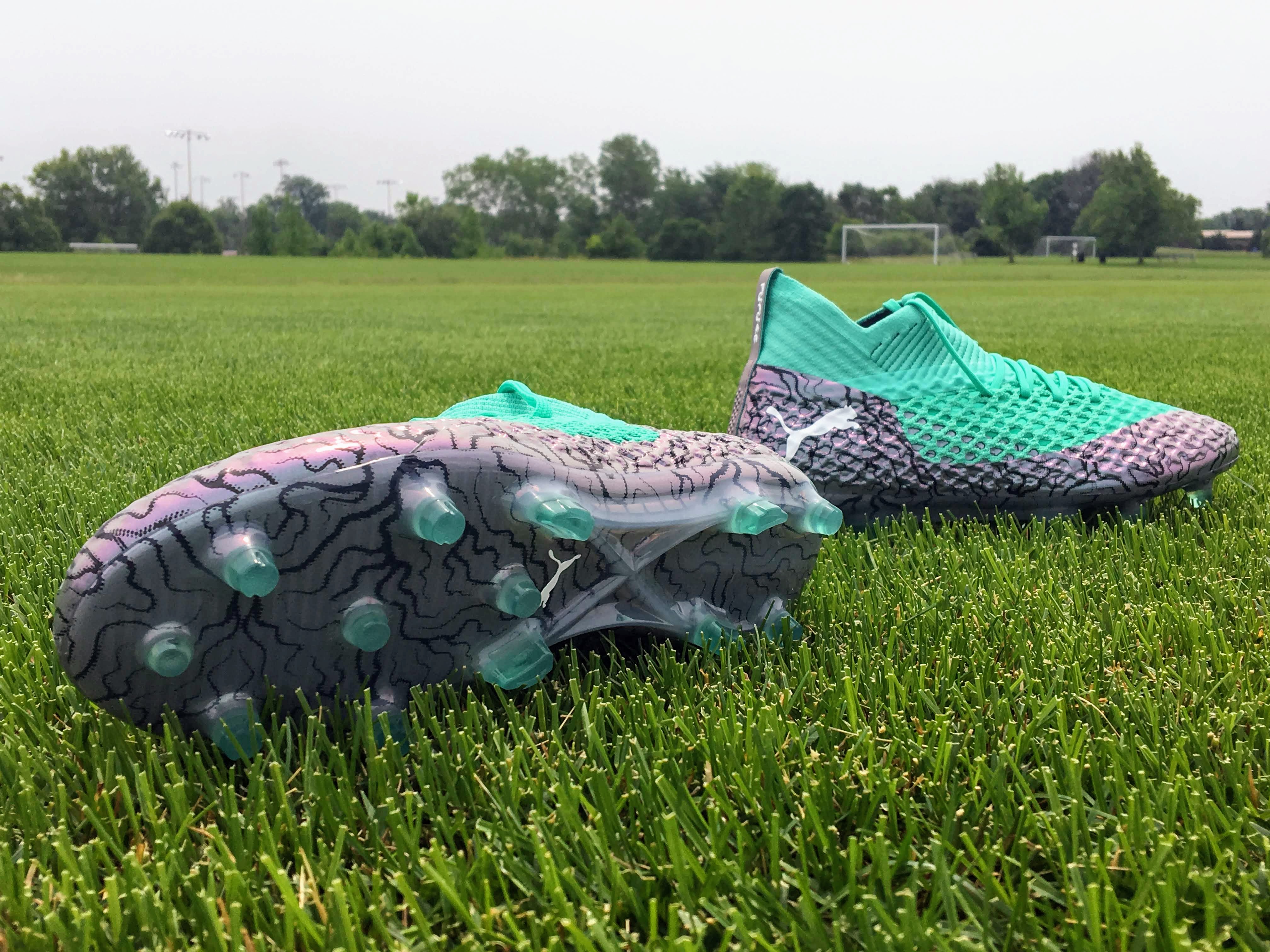 UNTOUCHABLE SPEED:
Lightweight RAPIDAGILITY outsole allows for high speeds on the break and 100% acceleration.

LIMITLESS AGILITY:
evoKNIT sock and form-fit textile base provide the ultimate support for top on-pitch performance and agility
Puma Future 19.1 Review
With the Puma FUTURE 19.1, it's time to see if the big cat has been able to continue to slap smiles on players faces, or if this boot is less ready for the future and more ready to be left in the past…. [ Read more… ]