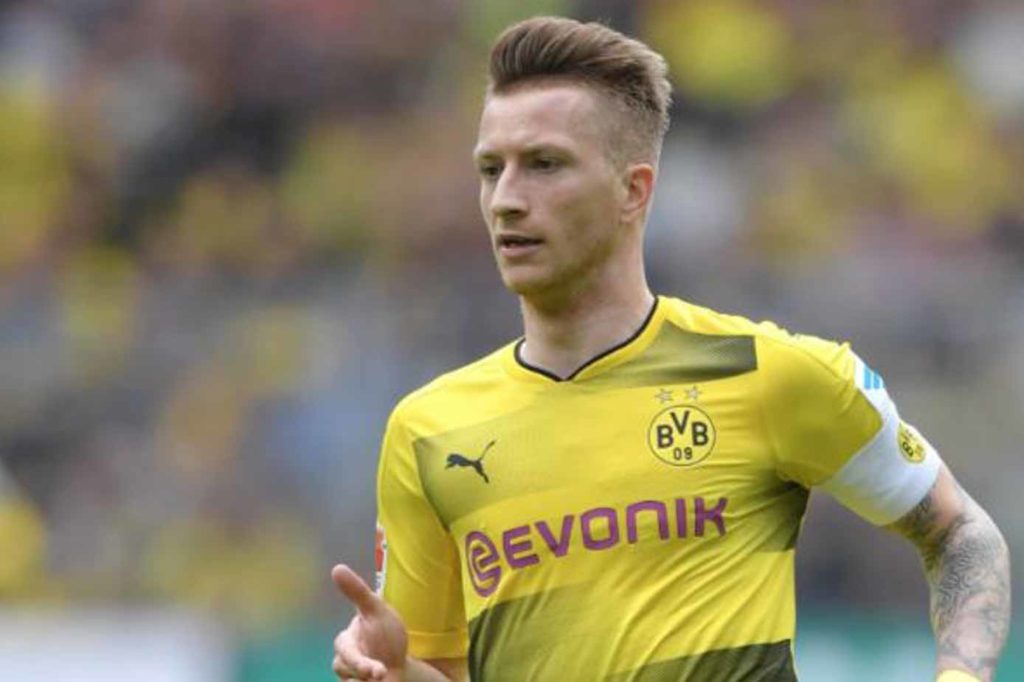 Marco Reus Jersey
—
Marco Reus Jerseys and Soccer ShirtsMarco Reus was coveted by most major teams in Europe until he signed a future contract for Borussia Dortmund. Reus is a savvy forward who has a keen eye for goal. He is one of Joachim Low's new wave of talent taking over the Nationalmannschaft. You can now get his Germany Soccer Jersey at SoccerPro.com. You can also find his Puma evoPOWER Soccer Shoes here.
Marco Reus Jerseys and gear
The sensational wizard from Germany has missed many major tournaments but he is back at the World Cup and back leading Dortmund. His ability to drive directly at goal and leave defenders in his wake is second to none. There's a reason he is called Woodinho!


On the Spot: Marco Reus
The flashy winger from Borussia Dortmund is considered something of a prodigal son in Dortmund. Reus started his youth career at Post SV Dortmund before joining Borussia Dortmund's youth system. He then left Dortmund for Rot Weiss Ahlen and played with their U-19 squad and made a few second team appearances. The next season he made 14 appearances and 2 goals including a final match day winner to send his team into 2. Bundesliga.
A few seasons later, Borussia Dortmund came in and bought him for 17.1 Million euros. That is where Reus, Gotze, and Lewandowski made Dortmund a team to fear in the Bundesliga and in Europe. Reus' international career seemed to be really taking off this summer before he picked up a partial tear in his anterior ligament, ending his 2014 World Cup dreams. Mario Gotze however, kept Reus there in spirit by carrying his jersey throughout the entire tournament and even dedicated his goal and win to Reus. Reus does not make much noise off the pitch and likes to keep to himself. The only times Reus really makes headlines is at Puma events promoting the EvoPower line that he wears. Marco Reus has a bright future ahead of him and it will be exciting to watch how he grows and improves over the next years… [read the rest!]

PRIVACY: Your email address and content of your message are private and will not be shared outside of SoccerPro. Information will be used to provide a response to your request. SoccerPro.com may send you additional marketing emails related to soccer gear. You have the opportunity to 'opt out' of marketing emails at that time.