Tottenham Jersey
—
Coach: Mauricio Pochettino
Captain: Hugo Lloris
Nickname: Spurs
Titles: EPL(2), FA Cups(8), Cup Winners Cup(1), Europa League(2)
Tottenham Jerseys
Introducing authentic replica gear from Tottenham Hotspur FC from London! 'Spurs' were founded by a bunch of cricket-playing school boys in 1882 but now Spurs can boast of a squad featuring Eriksen, Lamela, Dele and others! Show your support by picking out your very own authentic Nike Tottenham Jersey from SoccerPro today and join the Spurs in marching on!
Top Players

DELE 20

KANE 10

ERIKSEN 23
Other Players:
Erik Lamela | Son Min Heung
PRIVACY: Your email address and content of your message are private and will not be shared outside of SoccerPro. Information will be used to provide a response to your request. SoccerPro.com may send you additional marketing emails related to soccer gear. You have the opportunity to 'opt out' of marketing emails at that time.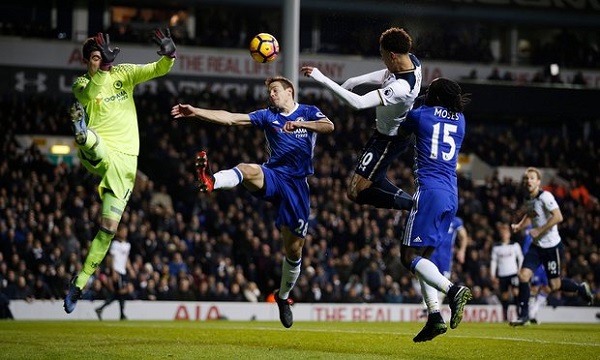 How Tottenham Ended Chelsea's 13-Game Winning Streak
Antonio Conte's Premier League juggernaut was finally knocked down at White Hart Lane this week. Chelsea's 13-game win streak began with a 2-0 victory at Hull, continued with an evisceration of Jose Mourinho's United, and hit its… [ Read more… ]