Tottenham Jersey
—
Head Coach: Ange Postecoglou
Captain: Son Heung-min
Nickname: Spurs
Titles: Football League Champions(2), FA Cups(8), European Cup-Winners Cup(1), UEFA Cup (2)
What better way to show off your fandom than with a Tottenham jersey from SoccerPro.com? In this collection, you'll find jerseys, shirts, and other accessories and gear. Each Tottenham Hotspur jersey is made by Nike® and engineered to meet professional standards. Durable and comfortable, they're perfect for the wear-and-tear of competition, or as casual wear when you're off the field. You'll also find accessories and equipment like gym sacks, beanies and balls. Whether you're going to a local sports bar, or traveling to the UK, these amazing jerseys and shirts are up to the task.
Tottenham Shirt, Jerseys & Gear
Tottenham apparel from this collection includes a variety of styles, including home, away, and 3rd jerseys. If you're outside on a cooler day in spring or fall, you may prefer the Tottenham long sleeve jersey. The extra coverage will keep you comfortable, even if the temperature on the field is chilly. Choose the popular blue Tottenham away jersey, cozy beanie hats, or classic crew tees. There's no wrong way to show off your team pride with gear and clothing from SoccerPro.com.
These performance jerseys are made with state-of-the-art materials and manufacturing techniques. They are lightweight and airy, and tailored for a non-restrictive fit. This means they won't hold you back as you lunge for that header, launch into a bicycle kick, or reach for the salsa. Breathable fabric won't trap excess body heat, and helps your body manage moisture and temperature while you compete. Moisture wicking materials help you manage sweat by lifting perspiration away from your skin. Get decked out in Tottenham Hotspur clothing before the next big game – whether you're competing on the field, or just chilling on the couch.
Do you have a fútbol superfan in your life? Whether they're an all-star on the field, a collector of all things soccer, or a devotee of the English Premier League, they'll appreciate the gift of a premium soccer club jersey. Place your order with SoccerPro.com today, and enjoy fast shipping, easy returns, and exceptional customer service.
Top Players:
Son Min Heung
PRIVACY: Your email address and content of your message are private and will not be shared outside of SoccerPro. Information will be used to provide a response to your request. SoccerPro.com may send you additional marketing emails related to soccer gear. You have the opportunity to 'opt out' of marketing emails at that time.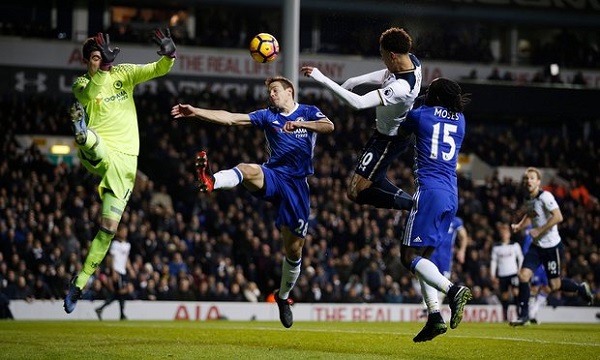 How Tottenham Ended Chelsea's 13-Game Winning Streak
Antonio Conte's Premier League juggernaut was finally knocked down at White Hart Lane this week. Chelsea's 13-game win streak began with a 2-0 victory at Hull, continued with an evisceration of Jose Mourinho's United, and hit its… [ Read more… ]