adidas ACE Fingersave Replique Goalie Gloves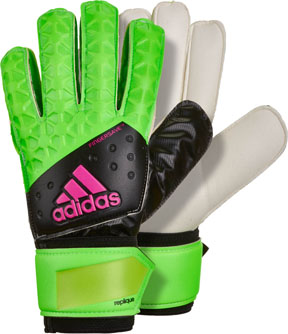 adidas ACE Fingersave Replique Goalie Gloves

Can you imagine how Spiderman felt when he first got his powers. Climbing walls and buildings must have been an exhilarating feeling. Well these gloves won't give you all of Spiderman's superpowers but you will have an incredible grip once you put these on! While your grip from these gloves won't allow you to climb skyscrapers, they will give you the ability to decrease the number of rebounds you give up. These gloves are amazing! They are like getting your own soccer superpower!




The adidas ACE Fingersave Replique Goalie Gloves are everything a goalie needs and more. Starting with the design these gloves just catch your attention and don't let go! The solar green and black color combination is great. The solar green color aspects of the glove really stand out against the black. Adidas also includes several amazing features to make these gloves even better. An example of this is the allround grip that will give these gloves excellent softness and durability in all kinds of weather. Don't miss out on the chance to own these incredible gloves! Get yours today and get your own superpowers!