adidas Colombia Authentic Home Jersey 2016-17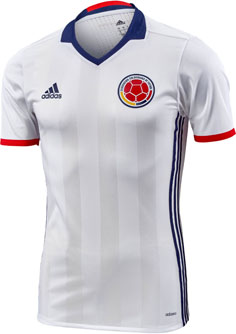 Colombia Authentic Home Jersey

Things are going pretty good for Colombia right now. After years of not even qualifying for the World Cup, they finally broke through in 2014 and pushed themselves all the way to the quarter finals. Now the sky is the limit for this young and upcoming team. The

adidas Colombia Authentic Home Jersey

is what they will be wearing while they try to conquer the CONMEBOL on their journey to the World Cup. Being in one of the toughest qualifying groups, they will have their work cut out for them, but they definitely seem up for the task!




Not only is this one of the best looking jerseys in the game, but this is the actual jersey that the players will be wearing at home this year. You know that adidas goes all out for the players, and they definitely did with this jersey. The comfort and style is unparalleled to any other jersey on the market. So don't pass up on this opportunity to own one of the coolest jerseys in the game! Get yours today!




If you were interested in this jersey you should definitely check out our selection of

Colombia soccer gear

at SoccerPro.com.