Authentic adidas Columbus Crew Away Jersey 2016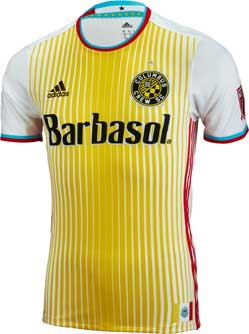 Crew Away Jersey

Columbus redesigned their logo last year to great effect. They went from the three men with hardhats to a thoroughly modern yellow and black badge. What happened immediately after the change was a run to the MLS Cup Finals. Although they lost to Portland, Kei Kamara and Co. terrorized the league with their exciting play.




In 2016, they will don the

adidas Crew Away Jersey

. If you're a Crew fan, this is a can't-miss. It's the authentic jersey with all the best adidas apparel packed in. This shirt is lightweight, comfy, and slim fitting, so you can feel just like your favorite Crew player.




The Crew are coming back for that MLS Cup! Find their jersey and more

MLS soccer shirts

today!