adidas Condivo 16 Rain Jacket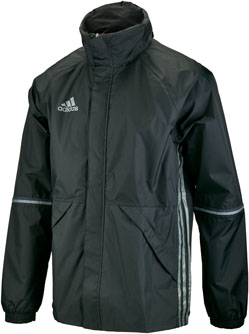 adidas Condivo 16 Rain Jacket

Don't let rain damper your game. The

Adidas Condivo 16 Rain Jacket

won't send the rain clouds away, but it will protect you from them. This jacket will keep you comfortable and dry during any rainy day. If you enjoy staying comfortable and looking good at the same time, then this jacket is just for you. Whether you are a fan or a player this jersey will keep you going when the rain tries to stop your efforts.




This black jacket is ready for action. The seam sealed technology incorporated into the jacket will ensure that you stay dry in the wettest of conditions. This jacket will allow you to work on your game more then the weather is allowing you to. Why wait for a rainy day to get this jacket? Purchase it today and stay prepared!