2016-17 adidas Germany Away Jersey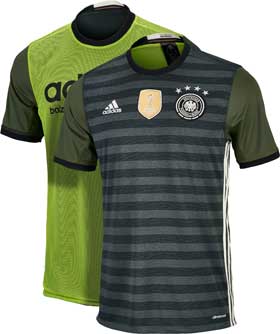 2016 adidas Germany Away Jersey

It was former England striker Gary Lineker who once said, "Football is a simple game. Twenty-two men chase a ball for 90 minutes and at the end, the Germans always win." Truer words have never been spoken. Since the '50s, Germany's national team has absolutely terrified foreigners. Now that they have four World Cup titles (only one behind Brazil), their claim as the best footballing nation in the world has even more merit.




For 2016, adidas has created the

Germany Away Jersey

so they can look as good as they play. Black and heather grey stripes give this shirt an attractive aesthetic, particularly when you see that gold FIFA World Cup champions patch in the middle of the chest. To make it even better, adidas have painted the sleeves in a dark army green. This is easily one of the best looking Euro 2016 jerseys.