adidas Gloro 16.1 FG Soccer Cleats - Black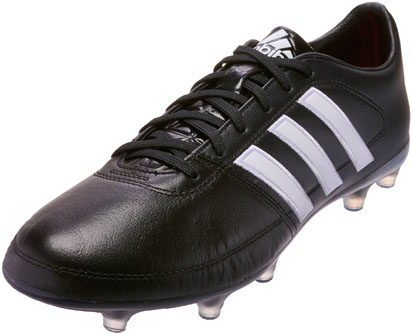 adidas El Gloro FG Soccer Cleats

It doesn't look like we'll ever stop getting spoiled with awesomeness from adidas Soccer! All we've got to say to that is "Long may it continue!"
When you lay hands on shoes like this super

adidas Gloro 16.1

, it's not hard to see how most of SoccerPro's staff feels totally spoiled. This shoe has everything you could want from a soccer cleat. It's all business, no nonsense, just straight up business and ability.

As far as adidas Soccer Shoes go, this one is cut from the same cloth as legends like the Copa. It dabbles heavily in comfort and stretching, it makes durability and agility its watchword. High level play requires a high-quality boot and this shoe is just that. It's built from premium kangaroo leather in an adidas pitch-proven design. It features the latest, most advanced technologies for superior performance and it belongs on your foot! Get your pair now.