adidas Kids Onore 16 Goalie Jersey - Solar Lime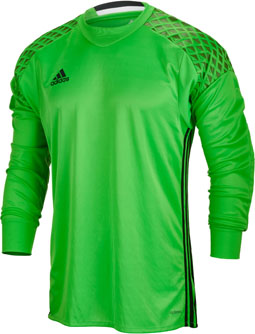 adidas Kids Onore 16 Goalie Jersey

It is incredible how good kids are these days. The competition is rising and that means that the talent level is rising. This generation could truly take our nation to the next level and put the United States on the map. Before that happens though, this generation will have to prove themselves. One way to do so would be by purchasing the adidas Kids Onore 16 Goalie Jersey. In the competitive soccer world we live in today, your kids will be eternally grateful for this amazing goalie jersey.




Not only does this jersey look professional but it has all the technological features that are needed for a top notch goalie jersey. The color combination of Solar lime and raw lime will really have your kid standing out! The climalite material used to make this jersey will ensure that your child stays comfortable in any weather, wet or dry. The padding will keep them safe from diving and from their opponent. However the padding can be removed if need be. This jersey is the complete package! Don't pass up on it!