adidas Kids Onore 16 Goalie Jersey - Solar Yellow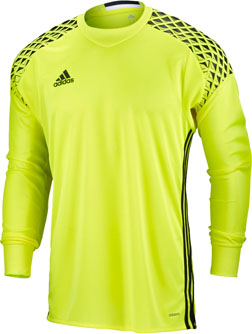 adidas Kids Onore 16 Goalie Jersey

Goalies every where will be jealous, once they see your child in this jersey. Whether they are professionals or not, every kid deserves to feel like a pro and this jersey will do just that for them. The

adidas Kids Onore 16 Goalie Jersey

is on another level! This jersey is classic. The yellow and black color combination really looks fantastic and your kid will be standing out on the pitch!




Aside from the incredible and flawless design that this jersey has to offer, there are also some pretty incredible technological features we have to mention. First off the climalite material will keep your child comfortable in any condition, and it is also very light weight material. The slim fit will fit perfectly on your kid allowing them a full range of motion. The padding will keep them safe from dives and from the opposing team. However the padding can be removed if need be. What does this jersey not have? That is a great question. We aren't sure. See for yourself how awesome it is and purchase yours today!