adidas Mexico Authentic Home Jersey 2016-17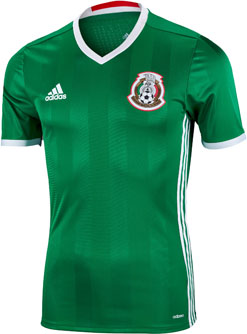 Authentic Mexico Home Jersey

One of the coolest jerseys in the game is back! Mexico is returning to the green home kit for the 2016 season. This classical Mexico jersey has become a symbol of the sustained success that this historic team has had for years. With all that being said you can imagine how excited we were to see this awesome jersey! The

adidas Mexico Authentic Home Jersey

is here and it is looking better than ever!




Mexico's return to the all green home jerseys was a great decision. The green base just screams Mexico and the red and white coloring for the team crest looks exactly how it should! This jersey just seems right! Besides being one of the best looking jerseys in the world, this is the actual jersey that the players will be wearing as they prepare to qualify for the 2018 World Cup. This authentic jersey is awesome! If you were wandering how well the players are treated, purchase this jersey and see for yourself! The style, performance, and comfort factors were all covered when adidas made this masterpiece!




This jersey is amazing, but we have more! Check out some more

Mexico soccer gear

at SoccerPro.com.