adidas Mexico L/S Home Jersey 2016-17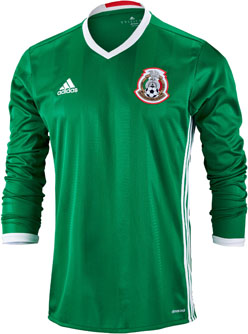 Mexico L/S Home Jersey

There is one problem with most soccer jerseys. We freeze when we wear them in the winter. Well not anymore! The

adidas Mexico L/S Home Jersey

is here to save the day! This long sleeve jersey will keep you warm during the winter and will keep you comfortable in the summer. This jersey is fantastic! With Mexico going back to their classical home jerseys you are going to never want to take this jersey off, and now that is no problem at all!




This all green jersey is truly one of the best looking jerseys in the game. The green, red, and white of Mexico's flag all get their time to shine on this jersey. The red and white make up most of the team crest across the chest and the all green backdrop of the jersey will be sure to catch everyone's attention! Besides being one of the best looking jerseys, this is also an extremely comfortable jersey. We told you that you won't want to take it off! See for yourself and purchase yours today!




Mexico is one of the most popular national teams in the world, so of course we have more

Mexico soccer gear

at SoccerPro.com!