Authentic adidas NYCFC Home Jersey 2016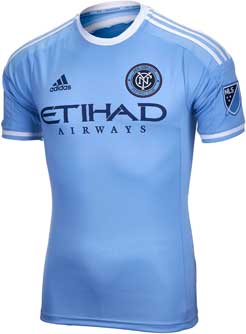 NYCFC Home Jersey

The MLS continues to grow and grow. NYCFC is a great symbol of the state of the MLS at this time. The twentieth team inducted into the league is ready to prove their worth. Supporting NYCFC is more than just supporting one team. Supporting them is supporting the expansion of the MLS and we would all love to see this league become a prestigious league. The

Authentic adidas NYCFC Home Jersey

is a great way to support them and support them in style!




For being the newest team in the league, NYCFC really knows how to make jerseys. The jersey's light blue coloring really gives them the Man City vibe, which is not a bad thing at all! The team crest is located above the team sponsor on the left side of the chest. This jersey is the real deal, and by real deal we mean that it is the actual jersey the players wear. After hearing all of this, how could you not want this jersey?!




If you liked this jersey you will love our selection of

MLS Soccer Gear

at SoccerPro.com.