Authentic adidas Portland Timbers Away Jersey 2016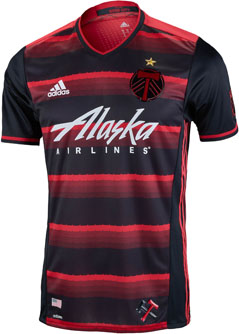 Portland Timbers Away Jersey

For all of 2016 Portland fans are going to hear something that really makes them happy. They are the defending champs and until someone knocks them out of their throne it is their's to hold. That must be a great feeling for a team that has only been in the league for five years! With the

Authentic adidas Portland Timbers Away Jersey

you can now show your support for this incredibly exciting team as they attempt to make another remarkable run for the title!




The away jerseys for the Timbers is awesome! They went a whole different direction with this one. Instead of the forest green used for the home jersey, the away jersey is all red but it fades from dark to lighter red around the jersey. The usual team logo and adidas logo are located above the club sponsor just like usual. This jersey is very intimidating, which is just what the defending champs are going for! You have got to see this jersey for yourself! Get yours today!




If you liked this jersey you will love our selection of

MLS soccer gear

at SoccerPro.com.