Authentic adidas San Jose Earthquakes Away Jersey 2016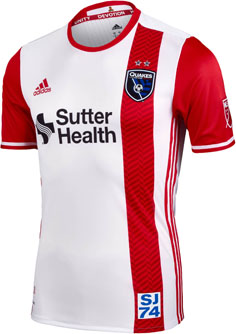 San Jose Earthquakes Jersey

The Earthquakes are going to rock your world with these jerseys! The

Authentic adidas San Jose Earthquakes Away Jersey

has got everything you could want in a soccer jersey. The team is back for another year and they have their eyes set on the playoffs this time. Will you be there when they make there playoff run this year? You can be there in style with this jersey and join the bandwagon before it gets too crowded!




These white and red jerseys are awesome. There is no denying the brilliance of this jersey. The team crest and adidas logo can be found on the front of the jersey on both sides of the chest. Also this is an authentic jersey. This means that it is the actual jersey that the players will be wearing in their matches this year. How could you pass that up?!




If you liked this jersey you will definitely love our selection of

MLS soccer gear

at SoccerPro.com.