adidas Ramos Spain Home Jersey 2016-17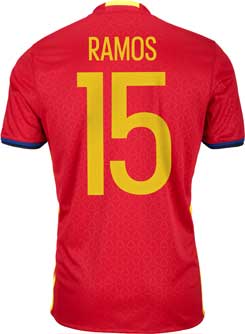 adidas Ramos Spain Home  2016 Jersey

Not many players can brag like Sergio Ramos. He has been the face of this Spain team for quite some time, and now he is looking to take the Euros this summer. The

2016-17 Ramos adidas Spain Home Jersey

is a great way to show support for this awesome soccer team and awesome player! Spain has been a favorite entering almost every tournament over the past decade. This years Euros are no different!

If you are ready to cheer for a winning team then this is the jersey for you! The Spain home jersey is awesome! The red and yellow colors are famous. The Climacool material used for this jersey will keep you cool and dry no matter what you are doing. The Spain national team crest can be found in the usual spot on the left side of the chest. The adidas logo is across from that on the right side of the chest. So what are you waiting for? Order yours today!

If you are interested in this jersey you will love our selection of

Spain Jerseys

 at SoccerPro.com!