Authentic adidas Sporting Kansas City 3rd Jersey 2016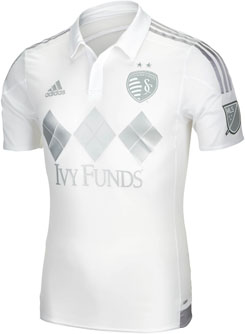 Sporting KC 3rd Jersey

The MLS grows bigger and bigger each year. The talent and the competition continue to grow. Sporting KC has been with the league through the thick and the thin. They were one of the original teams back in 1996 when they were the Kansas City Wizards. Today this is a team that you don't want to mess with. This year they look to take the MLS Cup and they will be wearing the

Authentic adidas SKC 3rd Jersey

on their journey to the top.




These all white jerseys look like they came straight from the year 3016! The white and silver color combination will have you shining brighter than the sun. Not only does this jersey look like what the pros wear but this jersey is the actual jersey that they will be wearing in the upcoming 2016 season. Adidas is one of the top soccer gear distributors and it is easy to see why with these jerseys! Get ready for what should be a very exciting year and get yours today!