Authentic adidas Toronto FC Away Jersey 2016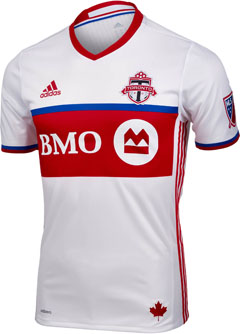 Toronto FC Away Jersey

Toronto is quickly becoming the city of stars. They have maybe one of the biggest stars in the world right now in Drake, but the real superstars are wearing the

Authentic adidas Toronto FC Away Jersey

. This jersey was made for a superstar. One look at it and we were all sold here at SoccerPro. Follow this exciting team as they look to make that playoff push that they came so short to accomplishing last season. They will be motivated more than ever this year!




Everyone has dreams of being a super star at least once. Now you can feel just like the players of Toronto FC with this jersey. It is authentic meaning that it is the actual jersey that the players will be wearing this upcoming season. You know that the pros will get the best and that is exactly what this jersey is! See for yourself how awesome it really is and purchase yours today!




That jersey is sweet isn't it?! Well check out some more

MLS Soccer Gear

like this jersey at SoccerPro.com.