2016 adidas Ukraine Home Jersey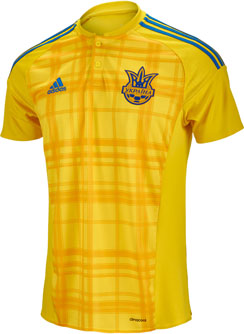 adidas Ukraine Jersey

The game of football can truly bring a country together unlike anything else. Ukraine will hope to use that unity to make a push with the national team, in the ever difficult European competitions and qualifiers. Check out the awesome

2016 adidas Ukraine Home Jersey.

This jersey is comfortable and looks great too, so be sure to grab one for yourself today!




The main color for this sweet jersey is yellow, while Blue and Bold Gold also play a part. The adidas logo is on the right side of the chest, while the Ukraine crest is on the left. The adidas three stripe design is also used on the shoulders and sleeves of the jersey.