Womens adidas X 16+ PureChaos FG Soccer Cleats - White & Red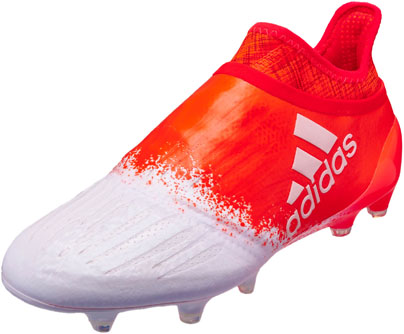 adidas X Women's 16+ PureChaosFG Soccer Cleats

They float into the vision of your opponent with the subtlety of a great enrapturing jazz piece. They are understated in their brilliance. The

Women's adidas X 16+ PureChaos FG Soccer Cleats

from the adidas Speed of Light pack are sensational! Players like Luis Suarez and Thomas Muller wear the Purechaos and it's not hard to see why. The shoes are superlight, they're effectively like playing in just socks because they're that light. They offer a great deal of comfort even with their light weight. Ladies (and gents) are going to love playing in these boots!

These boots are a mix of solar red and white. The laces are hidden under the upper casing of the shoe to give you a bigger field of contact for optimal ball striking and control. The sole plate of these shoes has a sharp finish to make these shoes shine brighter than the brightest star! The adidas logo is located on the outer of the shoe and it looks great! There is nothing about this shoe that isn't miles ahead of the competition! Step your game up today and order your pair!




These shoes are a must for your collection! Check them out along with the other shoes in our

adidas X Purechaos

selection! Shop from SoccerPro now and always! Awesomeness is a guarantee.