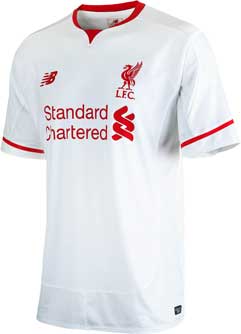 2015/16 Liverpool Kids Away Jersey
Youth New Balance Liverpool FC Away Jersey - White
Liverpool has an insane amount of young talent marauding around Anfield these days. Coutinho, Henderson, and Sturridge are a few of the names that will be leading the squad this season. All three are firmly in their primes and should be playing the best football of their lives. Those Liverpool fans are hungry for a return trip to the Champions League. Can this crop get it done in 2015-16?




I feel comfortable with their chances, especially if the team continues to add young studs. This season, the youth of the nation can get down with LFC via the

New Balance Youth Liverpool Away Jersey

. The NB Dry tech keeps you dry and cool when things heat up. Plus, that red Liverpool crest looks mighty fine as it resides over the top of your Red heart.




They say you're either a red or a blue. There's no identity crisis for Liverpool supporters. Reds all the way!