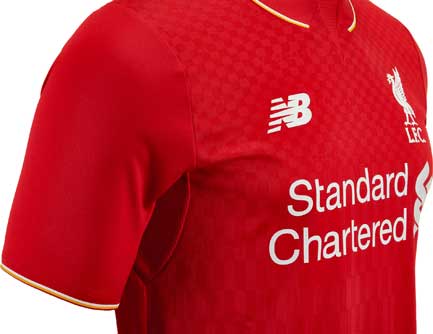 2015 Liverpool Home Jersey
2015 Liverpool FC Home Jersey - Red
Is most of your closet filled with the color red? Do you send your kid to school everyday wearing a red shirt, if not one with "Gerrard" on the back? Do you BLEED RED? Oh... I guess that one doesn't totally work, but you get the picture. If you're a Liverpool supporter, red is in your DNA. Now is the time to rally around the squad, with the legend Stevie G on his way out and young guns on the come-up.




Liverpool has made the switch to New Balance jerseys, and NB has done a classy job. Their

Liverpool Home Jersey 2015-16

has the traditional red with just enough texture to give it some depth. With the LFC crest on the left chest, the jersey automatically has that Liverpool prestige.