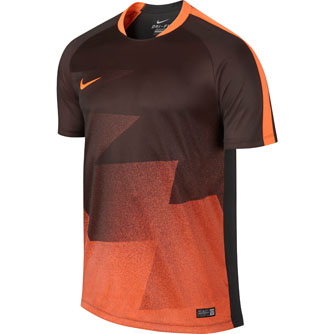 Nike GPX Training Top
Nike GPX Training Top
When you need a training shirt that works hand in hand with you as you go through the process of jacking your body up masterfully because you want excellence and the best of you, there's no looking further than a good ol' Nike Soccer Training Top! Nike has a long record of making outfits that withstand the hardest of training days and even punch back asking you to show them what you've got! This shirt certainly does that as good as any you'll find out there!

This

Nike GPX Training Top

offers such excellence to keep your training sessions cool and dry that every soccer player wants and must have a pair. The shirt is 100% polyester and delivers mesh ventilation and that awesome sweat wicking Dri-FIT fabric to give you the impression that you can train for double the time all day! Dri-FIT fabric to help keep you dry and cool. It features a jagged graphic for your edgy style of play. Get it now and step your training up to the highest possible levels. Shop today.