Nike Manchester City Core Plus Tee - Football Blue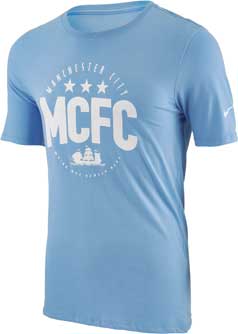 Nike Manchester City Core Plus Tee

Just like an arrow from cupid, Manchester City has sunk deep into the hearts of many football fans across the globe with their excellent footie and the star collection they possess! The 'noisy neighbors' have done the stunning job of usurping the city neighbors as one of the biggest clubs in England and the world! This football blue

Nike Manchester City Core Plus Tee

is a great way to celebrate the awesomeness and greatness of MCFC!

With colors that match the Manchester City Home Jersey, this tee could become your fallback for those days when you don't feel like wearing that City home shirt. Cotton shirts are always awesome tees and this one doesn't fail to live up to that expectation! As you enjoy the love of City, grab this shirt and show everyone who you rep!