Nike Ordem 4 Official Match Ball - EPL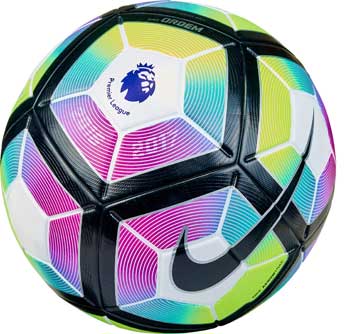 Nike Ordem 4 Football - EPL

The best players always have the best equipment, and the EPL has some pretty darn good players. The

Nike Ordem Official Match Ball

for the EPL is as close to perfection as you can get. This soccer ball is so awesome it could be a collector's item but why not play with it?! With a ball this great you have got to try it for yourself!




This white and blue soccer ball looks fantastic! The Ordem has always been one of the coolest looking soccer balls but the Ordem 4 is just putting every other ball to shame. This soccer ball is an official match ball which is awesome! You will be get to experience the same touch that the professionals experience on the daily. The bladder of this soccer ball is much more complex and geared towards a softer touch. This means that the ball does not retain air as well as your typical butyl bladder soccer ball. This is not a knock on the durability of this ball at all, only that you may be pumping it up more often. Don't miss the opportunity to own this awesome, one of a kind soccer ball today!





If you were interested in this soccer ball you will love our selection of

Nike Soccer Balls

at SoccerPro.com.