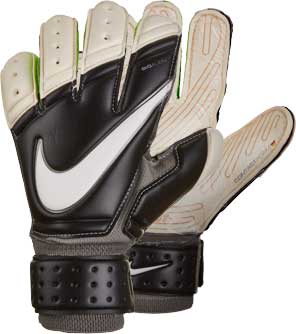 Nike Premier SGT Goalkeeper Gloves
Nike Premier SGT Goalkeeper Gloves - Black & White
Every goalie should be jumping out of their chair at the sight of these beauties! These gloves could take your game to a completely new level. They have everything you could ask for, modern goalie technology, a wickedly cool design, and the durability to last you multiple seasons. The

Nike Premier SGT Goalkeeper Gloves

is definitely one of the few elite goalkeeper gloves on the market right now.




There is so much to talk about with these gloves we don't know where to start. I guess we could start by talking about the laser-etched sipe grip technology used to create those sticky fingers that goalkeepers are constantly looking for. These gloves will not only make you a better goalkeeper, but they will protect you so that you can remain a great goalkeeper. The pre-curved bio-align technology will help protect you by keeping your hands in a catch-ready position. These gloves are here and ready to help you become the goalie you have always wanted to be. So what are you waiting for?! Get your pair today!